The silent and invisible side effect of cancer that isn't limited to the patient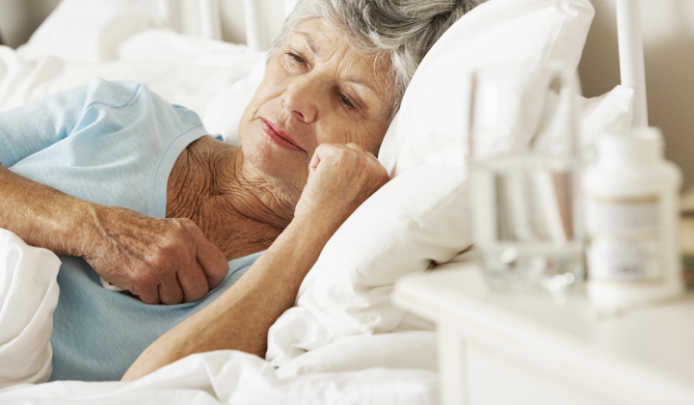 The side effects of cancer treatment and cancer itself are heartbreaking, painful and demoralising. But there is one side effect that we often don't hear about, we don't see and it isn't just limited to the cancer sufferer. We're talking about insomnia and moderate to severe insomnia affects 28 per cent of cancer patients and 32 per cent of caregivers.
This research from the Cancer Council Queensland shows that while some of the side effects can be seen by those around patients and carers some of the most significant are invisible on the outside. Insomnia affects quality of life as sufferers become lethargic with little energy, they often lose their vibrancy and insomnia can also lead to moodiness and a negative outlook.
According to the Sleep Foundation, adults over the age of 65 need 7-8 hours of sleep each night. This is more important for cancer patients as their bodies go through severe stress and need more recovery time.
Cancer Council Queensland spokesperson Katie Clift said the research showed a link between distress and insomnia, which had a significant impact on quality of life.
"Insomnia symptoms range from difficulty falling asleep, waking up too often during the night, and waking up early without going back to sleep, adversely impacting day-time activity," Ms Clift said. "Cancer-related insomnia commonly occurs after initial surgery and continues for both patients and carers long after clinical treatment has been completed".
Ad. Article continues below.
"Sleep disturbance can also cause depression, anxiety and distress, with long-term impacts on quality of life and a person's 'normal' daily functioning".
Rates of insomnia range from 19 to 63 per cent in cancer patients, and 40 to 50 per cent in cancer carers.
To help cancer sufferers in Queensland, The Cancer Council Queensland and Griffith University have developed a helpline that sufferers can call to talk to someone, have general support, free advice and resources if they need it.
"We're urging all Queenslanders affected by cancer who suffer from sleep disturbance or clinical insomnia to call 13 11 20 for support," Ms Clift said.
"13 11 20 is staffed by health professionals waiting to take your call with free advice, resources, a listening ear and the support you need to improve everyday life.
Ad. Article continues below.
"Whether your sleep has been affected by hospitalisation, physical discomfort or pain, treatment side effects or stress – it's important to reach out for help.
While this kind of resource won't fix the problem, it provides both carers and cancer patients with something safe to lean on.
It's important that the people around cancer patients and carers understand the full implication of what they are experiencing so we can best help them.
Have you experienced insomnia like this? Have you noticed it in your friends or family members before?