The shocking truth about your sunscreen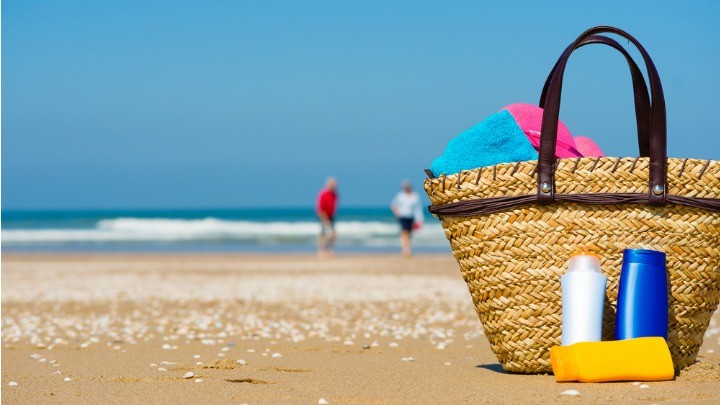 With skin cancer such as real and present danger for Australians, we have learned pretty quickly the importance of doing the right thing – slip, slop, slapping.
But what if our best efforts are actually letting us down?
Consumer watchdog Choice has found that as many as four in six sunscreens don't live up to the claims they make, which could put us all at risk.
Choice tested six sunscreens that claimed a sun protection factor of 50+ (SPF50+) and found that only two of the products actually delivered that result.
Products tested included general purpose, sports and kids' sunscreens.
Ad. Article continues below.
Only two met the label claim of 50+ – Cancer Council Classic 50+ and Nivea Sun Kids SPF50+.
Meanwhile, Banana Boat Baby SPF50+, Banana Boat Sport 50+ and Ombra Kids 50+ by Aldi all achieved results over 35, making them high SPF (although not meeting the claim of 50).
The worst performer was Ego SunSense Sport 50+, which only provided SPF of 29 when tested by Choice.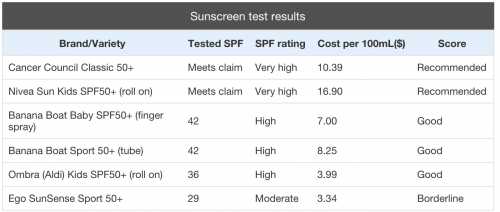 Choice reports that the water resistance claims of some products are also in question:
Ad. Article continues below.
"We didn't test these products for water resistance, though all products claim four hours' water resistance. However, we did obtain water resistance testing results for (Aldi's) Ombra Everyday SPF 50+ Sunscreen, which has the same formulation as the Ombra Kids SPF 50+ Roll-on that we found to have an SPF of 36. The SPF after four hours of water testing reduced to 23. Unfortunately, this doesn't meet the minimum SPF 30 required to claim four hours' water resistance."
In Australia, sunscreens are regulated as medicines (as opposed to cosmetics). To be sold, they must be listed with the Therapeutic Goods Administration (TGA), and in order to be listed, manufacturers have to test the product according to the Australian Standard to ensure it meets its claimed SPF (sun protection factor).
Choice was tipped off that some sunscreens didn't meet their SPF claims and decided to put some to the test. The consumer organisation has produced this sunscreen guide to help you choose the best option.
Are you shocked to learn that your sunscreen may not be as effective as you thought? Have you ever been burnt when you thought you were covered? How do you cover up?