The new fitness craze taking over-60s by storm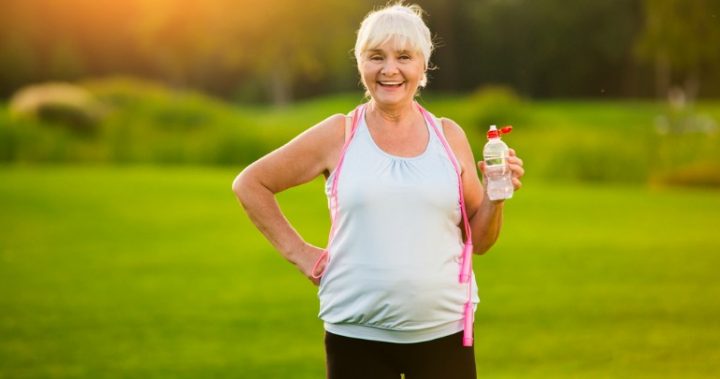 For many over 60s exercise can become a tricky manoeuvre; the body isn't as limbre as it used to be and sore joints, stiffness and pain can all get in the way of staying fit.
The problem is though, as we age we need to keep the body mobile and moving not just for our physical health, but for our mental health, too. Enter Chair Yoga.
Developed especially for over 60s suffering from joint pain, it uses movements designed to ease pain and avoid aggravating existing issues, all the while using a chair to help you stay balanced.
Yoga has long been regarded as a great way to keep the body supple and strong, but declining muscle strength and balance can make it difficult for some to get through a class without wobbling all over the place.
Chair yoga was developed by a team of researchers from the Florida Atlantic University who wanted to give those suffering from osteoarthritis a way of exercising that would help their bodies, rather than hinder.
Ad. Article continues below.
They conducted a study with 131 over 60s who suffered from the condition and monitored their fitness and mobility over three months.
Using exercises to increase flexibility, strengthen muscles, and ease pain, participants held onto or sat on a chair for support throughout the class.
At the end of the three month period, they found the patients had a reduction in pain, pain interference, and fatigue, as well as an improvement in gait speed.
"The effect of pain on everyday living is most directly captured by pain interference, and our findings demonstrate that chair yoga reduced pain interference in everyday activities," said team research leader Dr Juyoung Park.
Dr Ruth McCaffrey, who also worked on the study, said chair yoga can be used as an alternative therapy as well as a fitness option for those suffering from osteoarthritis or other physical issues.
"Currently, the only treatment for osteoarthritis, which has no cure, includes lifestyle changes and pharmacologic treatments that are not without adverse events. The long-term goal of this research is to address the non-pharmacologic management of lower extremity osteoarthritis pain and physical function in older adults, and our study provides evidence that chair yoga may be an effective approach for achieving this goal."
Do you find it difficult to do some forms of exercise these days? Have you tried yoga before?