The must-know secrets to great eye makeup in your 60s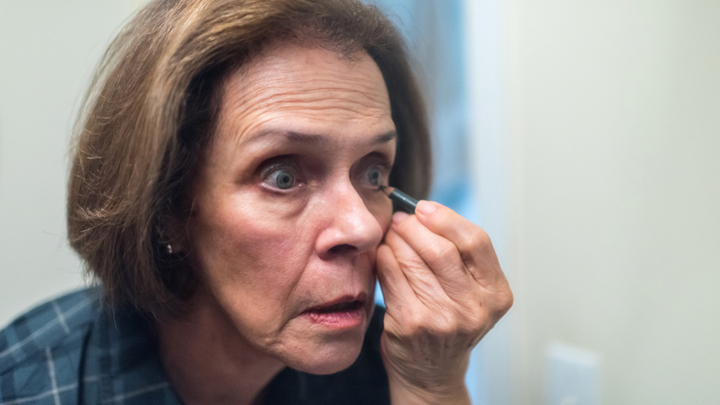 Our fine lines can make it difficult for makeup to sit still, especially around our eyes.
It's just a fact of life that our eyelids will sag, we will get crows feet, and we won't have those bright looking eyes – but that's not to say we can't look great and make the most of what we've got. There's a lot of helpful hints to accentuate your eyes and cleverly work with any wrinkles, creases or lines.
Here's our top tips:
1. Prime
Priming before applying any makeup is crucial however many of us forget or didn't realise we needed to. Eye primer is especially important and can help to set your eyeshadow and other eye makeup in place.
Ad. Article continues below.
Experts say that number one way to prevent makeup smudging and moving it to prime – and it only takes a second to pop on.
Primer also prevents creasing in the lid and makes colours seem more vibrant and less translucent.
If you don't use a lot of eye makeup, an eye primer may not be necessary. However, it can really help if your eye makeup tends to smudge and end up below your eyes.
Eye primer can also help your eyeliner stay in place.
2. Line your eyes properly
Ad. Article continues below.
Lining all around your eyes can age you more instead of making you look younger. Avoid lining under your lashes, instead opting to line your top water line. Also, choose a colour that suits your complexion. A black eyeliner is only best for darker eye colours, whereas lighter brown does wonders for all eyes.
To get it to last all day, first apply Kohl eyeliner, then take an angled eyeliner brush, wet it and dip it into a dark brown eyeshadow, then apply over the pencilled line.
3. Less is more when it comes to eyeshadow
The beauty rule "less is more" definitely applies when it comes to eyeshadow. You don't want to apply a blend of several different shades to sagging eyelids. During the day, opt for a neutral shade, and at night, go for the smoky look – no more than two colours.
Ad. Article continues below.
Keep the eyeshadow off your brow bone.
4. Choose the correct mascara
Older women should choose a lengthening mascara over a volumising one. The secret is to give your lashes as much length as possible because using volumising mascara can make short, stubby lashes look even worse. Brown mascara is better for fairer skin and hair.
Always start your stroke as close to the roots as possible, then wiggle the wand back in forth at the root so you get as much of the mascara at the base of your lashes as possible. Make sure you don't apply mascara to your bottom lid as it will run!
Ad. Article continues below.
5. Avoid shimmery, glittery eyeshadows
Shimmery eyeshadows highlight crow's feet, but with that said, the one area they do work is the inside corner of the eye. Apply a dot of light, shimmery eyeshadow in the inside corner of the eye to make eyes pop.
6. Use translucent powder to seal
Ad. Article continues below.
Once you have applied all of your eye makeup, give it a quick swipe with some translucent powder. It will set your eye makeup and help it to stay in place all day.
7. Only use powder eyeshadows
The drier the eyeshadow, the better it will be for your eyelids. Gel eyeshadows will stick to your wrinkles and smudge more easily.
Do you have any other eye makeup tips to add?