The magic number that means you look GREAT over 60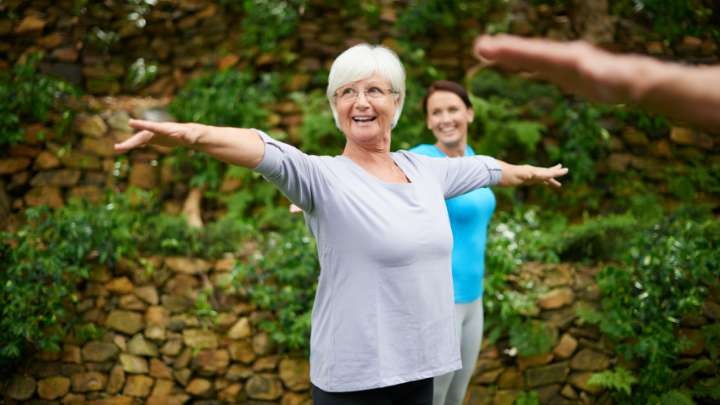 If you want to look great, dramatically improve your health and reduce your risk of breast cancer, there's a number you need to paint on a sign and post somewhere so you'll see it every day.
That number is… 300.
A new study has found that postmenopausal women who exercised 300 minutes per week are better at reducing total body fat during a one-year clinical trial. Women in the trial who were considered obese fared particularly well when they hit that magic number.
Excess body fat has been associated with increased risk of postmenopausal breast cancer, so these findings are considered incredibly important for all women over 55.
Physical activity is an inexpensive, noninvasive strategy for disease prevention. Around the world, people are advised to be physically active for at least 150 minutes per week at moderate intensity or 60 to 75 minutes per week at vigorous intensity for overall health.
Ad. Article continues below.
Christine M. Friedenreich, Ph.D., of Alberta Health Services, Canada, and colleagues compared 300 minutes of exercise per week with 150 minutes per week of moderate to vigorous aerobic exercise for its effect on body fat in 400 inactive postmenopausal women who were evenly split into the two exercise groups.
The women, who had body mass index (BMI) 22 to 40, were asked not to change their usual diet. Any aerobic activity that raised the heart rate 65 percent to 75 percent of heart rate reserve was considered exercise, and most of the supervised and home-based activities involved an elliptical trainer, walking, bicycling and running.
Those in the 300-minutes group lost on average 1 kilogram, or 1 per cent body weight, more than those only doing 150 minutes of exercise.
Total abdominal fat, BMI, waist circumference and waist-to-hip ratio also decreased more in the 300-minute group.
The association between physical activity and post-menopausal breast cancer risk is supported by more than 100 epidemiologic studies and the study authors recommend the recommendation for postmenopausal women be increased to 300 minutes of exercise per week, which is just under 45 minutes per day.
So if you've ever wanted to join a dance or pilates class, take up jogging or get a stationary bike, now is the time!
Do you get this much exercise every week? If not, what are the barriers? What's your favourite form of exercise?