The five best ways older swimmers can stay safe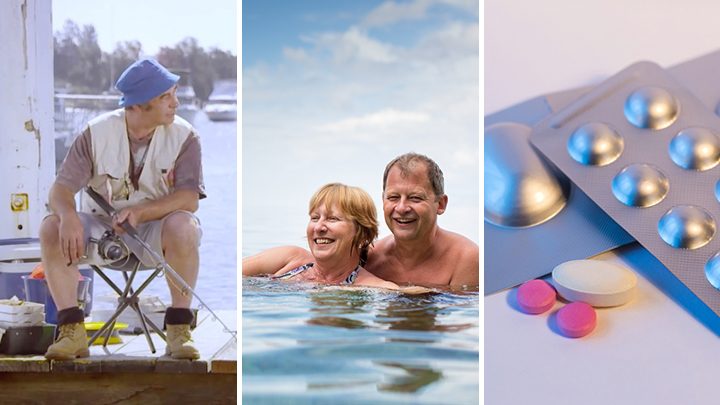 One of the least appealing aspects of ageing is that the activities we take for granted can become quietly more dangerous over time. It can happen extremely subtly, unnoticed until it's too late.
It's a sobering fact: swimming – or surviving an unexpected fall into water – becomes a far greater risk past the age of 60. It's claimed 917 of us since 2002. Even more tragically, so many of these deaths could have been avoided.
Older men are the most at risk, with males three times more likely to drown than women. To those with a partner who regularly swims, boats or fishes, it's a vital reminder to keep them safe. But how can we put this warning into practice?
The Royal Life Saving Society has developed the following five quick and easy steps for over-60s swimmers. We wholeheartedly encourage all readers: memorise these now – and share them with any loved ones you feel may be at risk. It truly can make a difference.
If you are unsure about how to raise this sensitive subject with a loved one, please click here for some valuable pointers on how to have "The Talk".
Ad. Article continues below.
1. Know your limitations
No matter how fit or confident you are, certain abilities will naturally change with age. Simply being aware of this risk – and making the effort to understand your own limitations – can make an enormous difference.
Thankfully, it's easier than ever to monitor your own fitness, with electronic trackers more affordable and accessible than ever, and GPs always willing to discuss any concerns. By taking a basic interest in your fitness today, you'll find yourself making far more informed decisions for any physical activity.
2. Be aware of your medical conditions – and your medications
Cardiovascular disease, general frailty and depression are among the biggest dangers in our age group. If you're regularly in or near waterways, regular check-ups with your GP are all the more important.
Ad. Article continues below.
Prescription medications another a major risk factor; they've been involved in nearly a quarter of recent drowning incidents. Ask your doctor about the side effects of anything you currently take, and if in doubt, exercise some healthy caution.
3. Avoid alcohol
Alcohol and water simply do not mix – and for the cautious over-60 swimmer, there should be no exceptions. Existing medical concerns are amplified. Physical limitations become more limiting. And if it clashes with prescription medications, even moderate levels of alcohol can be extremely dangerous and unpredictable. There's just no way to know. Why take the risk?
4. Wear a lifejacket
You wouldn't drive without a seatbelt; why go boating without a lifejacket? Unexpected falls into water account for 20% of drowning deaths. There's simply no excuse for skipping this basic safety measure.
Ad. Article continues below.
5. Learn lifesaving and CPR skills
It's never too late to learn. And for those of us who have taken CPR training in the past: it's time to brush up on those skills.
For those eager to take water safety to the next step, the Life Saving Society runs a dedicated Grey Medallion course covering survival and lifesaving techniques for older swimmers. Click here to learn more about this great program.
Which of these five steps do you follow? Which could you follow better? And have you ever felt that a loved one could do more to stay safe?
 This post is sponsored by the Royal Life Saving Society. Please visit their website for more invaluable information on preventing age-related drowning risks.