Three excellent reasons you should pop a bottle of bubbly this weekend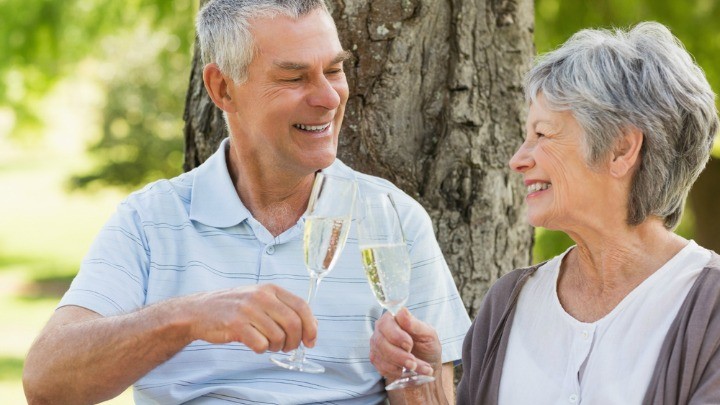 We all know there are many benefits of drinking red wine, but it's rare we hear the same about champagne – in fact, many of us might think it's just a frivolous drink, a bit of fun to celebrate with.
Not so! Champagne (and, yes, it's cheaper cousin sparkling wine) has numerous health benefits that are particularly helpful for those of us who are old enough to enjoy it properly (wink wink…).
For one, it has been found to have "dramatic" effects on ageing brains. A team of researchers from the University of Reading fed champagne to rats and found it reversed memory loss associated with ageing, and could even help delay the onset of degenerative brain disease, such as dementia and Alzheimer's disease.
It's believed that the pinot noir and pinot meunier grapes used to make champagne contain compounds that can help prevent brain diseases and boost spatial memory, which is helps us record the information we take in every day.
"These exciting results illustrate for the first time that the moderate consumption of champagne has the potential to influence cognitive functioning, such as memory. Such observations have previously been reported with red wine, through the actions of flavonoids contained within it," said Professor Jeremy Spencer from the Department of Food and Nutritional Sciences at the University of Reading.
Ad. Article continues below.
The good news doesn't stop there… In another study, sparkling wine was found to be good for our heart health, thanks to the high level of polyphenols, the antioxidants found in red wine grapes (sparkling wine is, of course, made from red grapes – you knew that, right?).
Professor Spencer told The Observer, "We have found that a couple of glasses a day has a beneficial effect on the walls of blood vessels – which suggests champagne has the potential to reduce strokes and heart disease. It is very exciting news."
And finally, champagne or sparkling wine has fewer calories than white or red wine – but make sure you choose Brut, which must contain fewer than 12 grams of residual sugar per litre.
Are you a fan of champagne? Is this cause to celebrate?