The confronting photos every sunlover will understand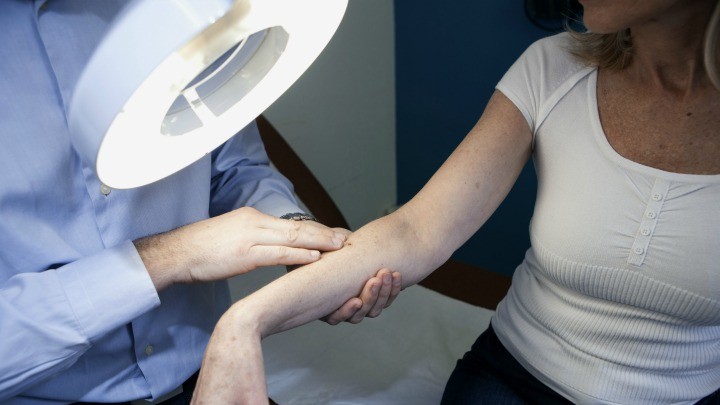 An American woman has reminded us how damaging the sun can be, by posting confronting photos of herself after skin cancer surgery.
"This is skin cancer", Judy Noble Cloud wrote on Facebook. "This is the result of using tanning beds when I was younger. This is the result of having numerous sunburns as a child and teen".
"(This is the result of) not being religious about applying sunscreen, and staying out in the sun far too long as a teen and into my 20's and even early 30's", Judy added.
"(Recently), I had my fourth surgery to remove cancerous spots. The skin cancer keeps coming back. This was the most invasive skin cancer surgery I've had yet".
"I had a three hour surgery", Judy explained about her mammoth skin cancer operation. "I had 23 places surgically removed in one day".
Ad. Article continues below.
Judy took weeks to recover, worrying about blood clots and rendered almost immobile due to huge incisions on her legs.
"I hear too many people say that they feel better about how they look after they go to a tanning bed, or after they bake in the sun for hours on end. Look at the pictures. This could be you", she warned.
Judy reminded everyone that cancer does not discriminate, and can affect people of all different skin tones. Some of her skin cancer ran so deep, that it reached her mouth muscles.
Months after the surgery, Judy still can't eat certain foods or open her mouth widely. She has lost feeling throughout her forehead, and possible nerve damage to certain parts of her skin.
"Does that sound worth it for you to keep going to a tanning bed?" Judy asked. "Total billed for my outpatient procedure? $26,845.87".
Ad. Article continues below.
"I know tanning salons advertise tanning packages that are cheap. Does a surgery to correct what the tanning bed does to you still make the tanning special sound cheap?"
"I'm really hoping the thought of going to a tanning bed no longer sounds quite so attractive to you", Judy warned young people especially.
It's certainly a timely reminder for us over-60s too, who enjoyed the sun long before 'slip slop slap' safety messages were unveiled. Now it's critical to get regular skin checks and practice sun safety.
Do these photographs make you rethink old habits? Did you spend too much time in the sun, when you were younger?