The best thing you can do for your health as you age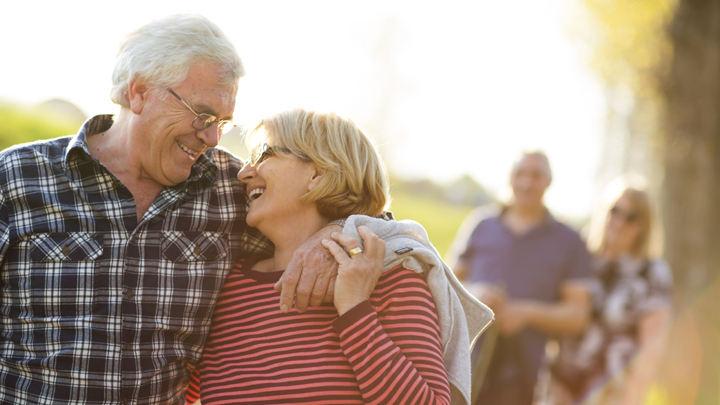 As we get older, our bodies and minds change, and some of these changes may be difficult to cope with. While it is important to be mindful of physical health problems that can arise, we must also maintain good mental health. Luckily, there are things we can do – at any age – to help avoid physical and mental health problems as we age.
Staying active is one of the most important things we can do for maintaining and managing good physical and mental health. It is thought 10-15 per cent of adults will experience depression and this figure doubles to 30 per cent for older people in the community who are frail and need support to remain at home.
For Brian, he learned how important staying active was after experiencing suicidal thoughts. Brian says: "In November, 2009, I was going home from work and the thought crossed my mind, 'What if I really wanted to get rid of myself? ……. And (then) I thought, 'What the hell am I thinking?"
Brian made a decision to focus on his mental health because he reflected on his experience and realised he had major mood swings and spent a lot of the time feeling down. His first step towards recovery was seeing a counsellor, who shared with Brian a very specific piece of advice; "You need to keep yourself physically fit because it helps your mental health."
Ad. Article continues below.
Brian says that getting active again helped him to find happiness and positivity. He said: "The first was that a mate put me on to mindfulness, and mindfulness, is a combination of relaxation and breathing and it grades up to gentle exercise. I try and do it every morning because I find it focuses me for the day. 
"One of the strongest bits of advice that I would have is to be active, and that doesn't mean you have to be out doing things all the time, there are different ways to be active.
Ad. Article continues below.
"If I do things that I enjoy like going for a bike ride in the sunshine particularly, that's good.
"I use my bike for fun, fitness and adventure. I love exploring history, old rail trails, and I've always liked doing that."
Brian's story will be familiar to millions of Australians experiencing depression and anxiety. He says taking those initial steps to find a happier outlook on life saved him, as well as his courage to talk openly and honestly about it with health professionals and friends.
beyondblue shares a few key steps to living a happier, healthier and more active life…
Ad. Article continues below.
5 tips for getting active
Plan activities that are enjoyable, interesting, relaxing or satisfying. These activities are important in overcoming depression and anxiety. At first, they may not feel as enjoyable as before, but with persistence, the pleasure should eventually return.
Increase activity levels gradually. Start by planning simple daily activities such as shopping, driving, gardening, writing emails or completing simple household tasks. Completing these activities can increase your self-confidence and build the motivation needed to take on more energetic activities.
Plan a routine to help you to become more active in your everyday life. Make sure some form of exercise is scheduled in for each day and try to stick to the plan as closely as possible, but be flexible.
Keep connected with other people as this helps increase levels of wellbeing, confidence and opportunities to participate in activities. Participate in activities with family members and close friends, and accept social invitations, even if it's the last thing you may feel like doing.
Listen to the stories and advice of others. Sharing experiences about depression and anxiety helps you feel confident to continue on your path to recovery. It's also a great way to find out about different ways to be active. Don't be afraid to try something new!
Stories like Brian's show us just how important our physical health is to our mental health, so this week make it a priority to live a more active and healthy life.
You can watch Brian's full story by clicking here.
Ad. Article continues below.
Tell us, what do you do to keep active? What advice could you share with other 'Starts at 60' community members?
If you think you, or someone you know, may be experiencing symptoms of depression or anxiety or is at risk of suicide, talk through your concerns with your GP or chat to the trained mental health professionals at the beyondblue Support Service on 1300 22 4636.
www.beyondblue.org.au/startsatsixty
This article has been sponsored by beyondblue. We feel it provides the Starts at 60 community with valuable insight into a highly important topic. To find out more about the work that beyondblue does and to learn more about depression, anxiety and maintaining good mental health as you get older, click here.