The awesome program that will make the world a better place for dementia sufferers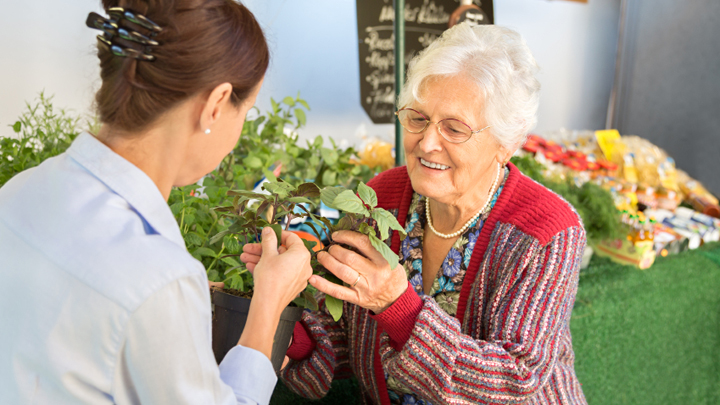 It is predicted that by 2050, there will be close to 900,000 people living with dementia in Australia, a significant increase compared to the 342,800 Australians currently living with the disease.
We're aware dementia is a growing problem, so what are we doing about it? Thankfully, a new national public education program is making a serious difference by working to create a dementia-friendly Australia. Home Instead Senior Care introduced the program to assist businesses in Australia to become more dementia-friendly.
And what a great idea it is: the purpose of the program is to help businesses understand dementia through training and education and to assist in making changes that will have a positive impact on those with dementia.
"Awareness, understanding and acceptance of dementia is so important but we want to take it a step further and put this understanding into practice. We assist businesses with changing their systems in regards to communication, lighting, signage and environment – all of which can have a huge impact," says Martin Warner, owner of Home Instead Senior Care in Australia.
"Many people that suffer from dementia can become isolated and unfortunately, we as Australians are implicit in this. If people living with dementia do not feel supported in their local community and face barriers to social inclusion, it is all too easy for them to shut off from society, which only exacerbates their feelings of confusion and loneliness.
Ad. Article continues below.
"We want people with dementia to feel included, involved, encouraged and supported in their community. It is so vital that they can retain their independence, choice and control over their day-to-day lives," says Martin.
The session with businesses cover everything from how to identify someone with dementia to how to communicate with them and how to support them in their service experience. So far, the pilot program in Brisbane has been a great success, with the likes of Woolworths, Kmart, Wallace Bishop, Taking Shape Fashion and Brisbane City Council Library all participating in the training.
Kmart Toowong in Brisbane's Inner West is working towards becoming a Dementia Friendly business, with 10 team members who have completed the training to date. Store Manager, Kim Esposito said Kmart is committed to supporting diverse customers visiting the store.
"We are always looking at how we can better support our customers in their shopping experience…Being aware of the challenges people with dementia face will allow us to be more supportive of members in the community and make Kmart … a more dementia-friendly store to shop in".
This year, Home Instead plan to take the program Australia-wide with workshops in Brisbane, Sydney, Melbourne, Adelaide and Perth.
Ad. Article continues below.
Tell us, do you think that more businesses need to be aware of dementia in the community? Are you glad to hear of this initiative? Do you know any business that could benefit?