So you have decided to go grey... What next!?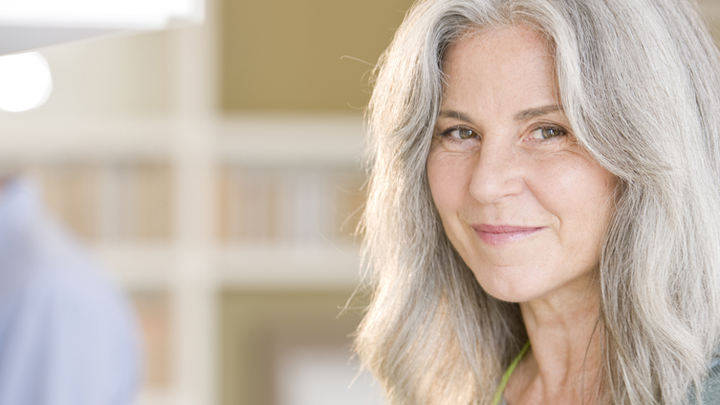 Many women over 60 ponder the problem of whether to continue to colour their hair, or whether to let it go grey; have you done the deep thinking? Have you made the decision and decided to switch up to grey? The door has now opened to a whole new world of hair experiences.
TO BEGIN
Discuss your idea with your hairdresser and have her help you to change colour seamlessly and gradually.
Best to have a short hairstyle during the changeover.
If you still have some natural colour left, but the overall look is pepper-and-salt, try a semi-permanent rinse – this is easy to do at home. Choose a colour lighter than your non-grey hair to give a streaked effect. The semi-permanent rinse will gradually wash out over the next six or so shampoos, but it will make your hair glossy, thicker and more manageable. This is a fuss-free way to help you achieve grey or white hair and still look attractive during the changeover.
Coloured highlights look wonderful in hair that is less that 40 per cent grey – stay within the honey-brown and chestnut palette. Never blonde, because blonde highlights will make greying and whitening hair look drab.
Assess your new natural grey or white colour. It might vary in shades of grey. If white, it may be yellowish here and there. Sometimes hair might alter, and straight hair will become curly; curly hair could become even curlier. The texture could change and hair could coarsen, become finer and thinning may occur. All part of the challenge ahead. Then again, you might be lucky and have even-toned and attractive grey or white locks.
MAKING THE MOST OF GREY AND SILVER LOCKS
Ad. Article continues below.
There are many semi-permanent rinses formulated especially to enhance grey or white hair. Your hairdresser can help or you can scan the shades at the hair product outlet and D.I.Y. Because it's just a shampoo in, leave and rinse off program with no regrowth to worry about, you can easily D.I.Y. As mentioned, you will have glossy, thicker and more manageable hair with a beautiful even-toned pearly hue, a semi-permanent rinse will be most beneficial if your hair has coarsened.
Toner will make white hair take on a lovely ash shade and will eliminate any yellowish tinge.
Try a blue or mauve coloured mousse as a setting lotion to enhance your grey or white hair.
Blue/purple shampoos and conditioners are excellent. I use Avon's Radiant Silver range.
STYLE
Ad. Article continues below.
You've made the first move and stopped tinting your hair. Now a chance to make the second move and develop a new hairstyle. White and grey hair calls out for a chic style – perhaps audacious? Perhaps eccentric?
Try a short bob and I mean short – not too far below the ears – any longer and it can drag your face down, down, down. A short bob will look a little bit
Geometric styles look sharp and classy – sophisticated but will require frequent trims. You will be at the salon about every three to four weeks. Do you like the asymmetric styles?
Curly hair needs to be well cut too and can be styled into a curly cap or maybe some curly tendrils escaping for a cute, gamin look.
Wavy and curly hair looks sensational in a short bob; shaped into the nape of the neck, thick on top and a touch longer at the sides. Let the curls bounce and bob.
Ad. Article continues below.
Because you are not using a permanent rinse, you may like to have a perm. Two chemical processes at once are much too harsh but one is usually trouble-free, so if you have always had straight, tinted hair, try a perm and have fun with curly grey or white hair.
LENGTH
Short styles open up the face and give a youthful appearance, they suit the older lady well, especially with an upward sweep at the sides – push up with your fingers when styling each morning. A few soft waves worked into any style are flattering and overcome a too severe look.
Long, loose grey or white hair is not always flattering to mature women. If you choose to keep your hair long, work out a variety of upswept styles. The French roll is always smart. Curls may just be swept up and secured with combs. Try to do better than pulling it back into a ponytail. Practice different up-do's and look out for gadgets that help create upswept styles; combs, pads, clips and so on.
SEVEN TIPS TO KEEP GREY AND WHITE HAIR LOOKING TIP TOP
Ad. Article continues below.
If your hair is thinning and pink scalp is inclined to show, use a volumiser after each shampoo and rub it into almost dry hair to rough-up the hair cuticle and add even more volume. Back-comb hair over any extra-thin spots. Use your hand mirror as you smooth and adjust where necessary, then an extra spray of hairspray on those places.
Hair dust is a wonderful help for making hair look thicker and keeping it in place. Just a touch on the fingertips and push in under the hair to the roots. Really effective if applied after back-combing and before smoothing. A little bit more hair dust if necessary until you're satisfied. Experiment.
Develop a style with a definite hairline bordering your face. White and pale grey hair around the face can give the impression of a receding hairline. Use a pearl grey or suitably coloured mousse to deepen your hair tone.
TIP: Touch-up around the hairline with grey eyeshadow on an eyeshadow applicator. Also good to hide pink scalp along a hair part.
Use a hot oil or protein treatment every now and again to keep hair looking healthy and shining.
After shampooing, wrap wet hair in a microfibre turban to cut down on hair dryer use which can be damaging.
If you wear a fringe, style it, spray it, then don't touch it again!
Always remember to check the back of your hair when styling is completed each morning and from time-to-time during the day.
White and grey hair can sometimes drain colour from the face, so you may need to use slightly deeper, but still soft, make-up shades.
Ad. Article continues below.
Rose and fuchsia lipsticks (never brown) and experiment with glamorous reds.
Pastel hued blush, or if you are brave, try bronze – nothing looks better with white hair than a sun kissed glow.
Make up your eyes from the brown, grey and beige spectrum. Keep brows noticeable and use black mascara.
Shining, glossy, glamorous grey or white hair will make you look polished and show the world that the silver fox look is an attractive alternative.
Tell us: have you gone grey?
Ad. Article continues below.