Royal hairdresser reveals her tips for great over 60s hair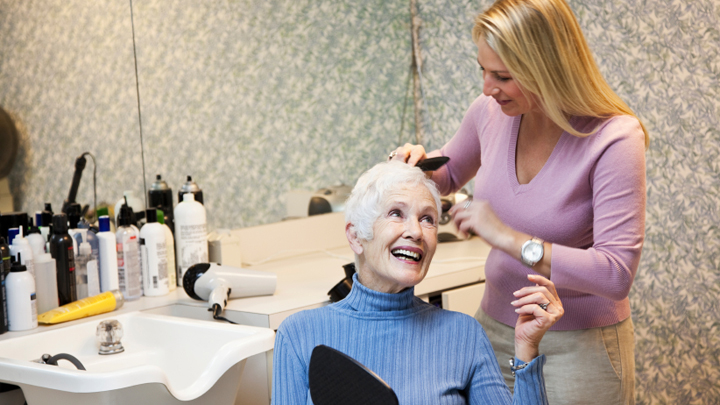 The hairdresser for the Queen and several other members of the Royal family, Denise McAdam, has revealed her secrets to having great hair when you're in your 60s. And we have to say, her advice is excellent.
Ms McAdam has also styled the locks of famous beauties, Jerry Hall, Marie Helvin and Cindy Crawford, and she strongly believes the best hairstyle for anyone over 50 is one that ends at the jawline.
As most of us know, your hair changes quite a lot after menopause. Hair that was one straight and thick is now a frizzy, thin mess. Not to mention it's grey, lifeless and untameable. Some of us just cut it all off while others have given up completely. But it doesn't have to be like that.
Denise recommends creating the illusion of volume with dry shampoo. She told the Daily Mail, a spritz of dry shampoo (available from most chemists) around 10cm from your head absorbs any moisture from dampness. Move the spray in an arch from ear to ear, then brush your fingers through to blend.
She also believes that very long hair with a part is "massively ageing" but if you like that style, where it in a bun to lift the face. Take your locks to your shoulders and no lower.
Ad. Article continues below.
A soft fringe is also a good look for the older lady as they "have a veiling effect on lines on your forehead", says McAdam.
Other advice she gave included:
Always taking a look at the back of your hair when you style it, just like you would in a salon.
Condition your hair not just with the product, but by drinking lots of water, eating fruit and veg and restricting caffeine and alcohol consumption.
Use a Tangle Teezer comb to smooth conditioner through wet hair, before leaving it for a few minutes and rinsing through.
Get lowlights and highlights to stop the salt and pepper look
Avoid solid colours as they can be ageing. Have at least three colours happening in your hair. Anna Wintour a great example of a woman who has kept the same iconic style but has softened it with highlights.
If you have night flushes and move around a lot while you sleep, sleep on a silk pillow. Cotton pillows act like sand paper on your hair and can cause damage.
Stay with the same hairdresser, though if you have to change, make sure you have a consultation without a black cape on as this will show your stylist your personality so they can tailor your look.
No rules on how often to shampoo hair but do try and give it a break once a week
If you must use straighteners, be careful. Use straighteners to sharpen the edges of hair.
Take hair strengthening supplements
Tell us, will you be taking her expert advice? When was the last time you went to the hairdresser?