Quick and easy ways to treat knee pain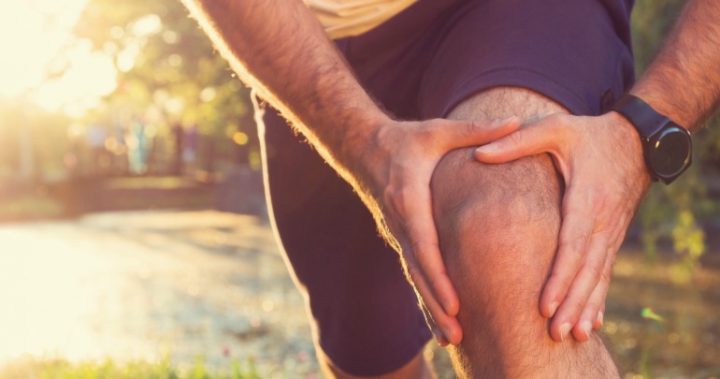 It's common for your knees to hurt or become stiff as you get older, but it doesn't have to sideline you from doing the things you like to do.
The pain in your knees could be due to weakened bone structure or wear and tear. You could also experience knee pain from fractures, ligament injuries, arthritis or another chronic ailment.
Symptoms could include stiffness in the knee, swelling, redness, numbness and/or difficulty walking or standing however, you can find relief from your knee pain with a few simple remedies.
1. Turmeric and ginger tea
You know that both turmeric and ginger are natural anti-inflammatories, which will help if you have osteo or rheumatoid arthritis. Turmeric in particular is known to lower the levels of two enzymes that cause inflammation. This spicy tea can be enjoyed each day. You'll need:
Ad. Article continues below.
2 cups of water
1/2 teaspoon ground ginger
1/2 teaspoon ground turmeric
Honey (to taste)
Bring the 2 cups of water to the boil and then add the 1/2 teaspoon of ground ginger and turmeric. Reduce the mix to a simmer and leave for 10-15 minutes. Strain and then add honey to taste.
Read more: Suffering arthritis? These are the foods to eat (and avoid) to ease the pain
2. Apple cider vinegar
Apple cider vinegar is known to have alkalising effects, which means it can help dissolve the mineral build-up and harmful toxins within the knee joint. Additionally, apple cider vinegar can help restore joint lubricants and alleviate pain and improve mobility. You'll need:
Ad. Article continues below.
2 teaspoons apple cider vinegar
2 cups filtered water
Mix the vinegar and the water together and sip throughout the day. Drink the tonic until you feel you have recovered completely.
You can also use 2 cups of apple cider vinegar in a bath of hot water. Allow your knee to soak for up to 30 minutes.
Alternatively, add 1 tablespoon of apple cider vinegar to 1 tablespoon of olive oil (no, you're not making a salad dressing) and massage this mix into the affected knee once or twice each day until you no longer experience pain.
3. Cayenne ointment
Ad. Article continues below.
Cayenne peppers contain capsaicin, which works like a pain reliever. As a topical treatment, cayenne pepper has been found to be quite effective for knee and joint pain because it minimises the alert to the discomfort through the warming sensation it creates. Here's how you can main the ointment:
3 tablespoons cayenne powder
1 cup of grapeseed oil (olive oil works just as well)
1/2 cup grated beeswax
A double boiler
A glass jar with a tightly fitted lid
Mix the 3 tablespoons of cayenne powder with the 1 cup of oil. Heat in a double boiler for 5-10 minutes over a medium heat. Stir in the 1/2 cup of grated beeswax and continue stirring until it has completely melted and everything is blended together. Chill the mixture in the fridge for 10 minutes, then whisk together. Chill again for up to 15 minutes and give another whip. Put it in the glass jar and screw the lid on tightly. Store in the fridge for up to 2 weeks, applying daily as needed for pain relief.
4. Peppermint eucalyptus oil blend
Where cayenne pepper gives heat, peppermint and eucalyptus offer cool and this sensation overrides your discomfort. Both peppermint and eucalyptus have pain relieving properties and this can alleviate the pain you feel in your knees. What you'll need:
Ad. Article continues below.
5-10 drops of peppermint oil
5-10 drops of eucalyptus oil
1-2 tablespoons of olive oil (or grapeseed)
A small bottle
Blend the peppermint and eucalyptus oils together and then mix with the 1-2 tablespoons of olive oil. You want the olive oil to dilute the essential oils and reduce the irritation to your skin. Store the oil in the glass bottle and keep in a cool location (like the cupboard in your bathroom) and out of direct sunlight. Use when your knee is giving you a bit of pain by rubbing the oil into the effected area.
Read more: 5 tips to manage osteoarthritis
5. Egg yolk and walnut paste
Egg yolks can be mised with walnut paste to prepare a solution that works well to fix knee pain. The yolk contains a warm property that provides heat to the knee. Here's what you'll need:
Ad. Article continues below.
2 tablespoons of castor oil
1 tablespoon of fish oil
2 egg yolks
4 tablespoons of white turmeric powder
Mix the ingredients together until it forms a thick paste. Heat the mixture in a pan for about 5 to 10 seconds. Apply quickly to the affected area with cotton and cover with gauze. Leave overnight and wash off the following day with lukewarm water.
DO you have knee pain? Have you used any of these remedies?