Put a spring in your step with these energy boosting tips + Vanilla and blueberry chia pod recipe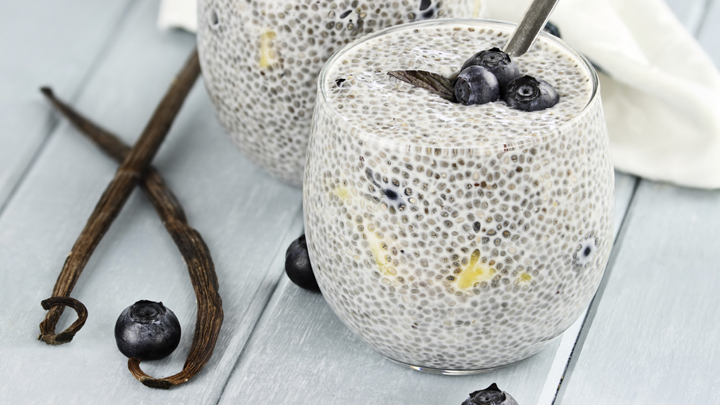 Over sixties are proving they've got the energy to take on new challenges and live life to the fullest, according to new research commissioned by Nature's Own.
The study found that Australians in their sixties possess an increasing appetite for adventure and almost two in five more spontaneous (39%) than those in their 30s (34%), 40s (26%) and 50s (34%).
In fact, anyone can boost their energy levels with just some simple lifestyle tweaks. Improving your energy levels doesn't need to be challenging. There are simple natural ingredients you can work into your diet along with basic exercises you can try to ensure you get the boost you need.
Looking for some easy ways to get more energy? Try the following tips:
Get outside and enjoy the sunshine! Whether it's eating breakfast outside in the morning or taking a walk outside during a break from work, fresh air and sunlight will awaken your senses plus help to boost your Vitamin D levels.
Maintain a strong, upright posture and activate your 'core' muscles by drawing your belly button into your spine to enable better air flow into your lungs, which aids in energy production. Try this simple exercise for a quick boost while sitting at a desk, in the car or while watching TV!
Put your best foot forward when exercising and ensure you have comfortable, supportive footwear to wear to reduce the risk of injury or over-use strains. You're also best to wear light protective clothing to prevent overheating during exercise and ensure all your energy is put to good use.
Ad. Article continues below.
Try incorporating these energy-rich foods into your diet for a quick and easy pick-me-up!
Berries – Boost your immunity with a daily handful of anti-oxidant-rich berries that are also packed with vitamin C. Simply sprinkle on top of cereal or plain yoghurt, or add frozen berries in a blender with a cup of milk to make a thick and tasty smoothie.
Chia Seeds – Not only are chia seeds high in dietary fibre to aid in digestive function, they are also a great source of omega 3s – ideal for increased brain function!
Leafy Greens – We all know that vegetables are good for us, but did you know that by adding 1 or 2 cups of leafy greens to your meal can help reduce your risk of arthritis? Leafy green vegetables also help improve skin and hair, and heart health. These vegetables contain a huge array of nutrients including Iron, Calcium, Vitamin E, Vitamin K, dietary fibre, Vitamin C and disease fighting phytochemicals like lutein and zeaxanthin.
RECIPE: Vanilla and Blueberry Chia pods
Ad. Article continues below.
This quick and easy snack contains plenty of calcium for healthy bones, Vitamin C and anti-oxidants to reduce the signs of ageing and improve immunity, Omega 3's for brain health, and lots of dietary fibre and pre-biotics for good stomach health too. Try making these for an easy breakfast on the go, or as a sweet treat to boost your energy without the guilt!
Ingredients
1 cup low fat Greek yoghurt
1 tsp chia seeds (try Nature' s own Superfood Blends Chia)
1/2 cup frozen blueberries
½ tsp organic vanilla essence
1 tsp Stevia
Method
Ad. Article continues below.
Start by combing chia seeds, yoghurt, vanilla essence and stevia in a bowl. Then layer a tall glass with 2 tablespoons of blueberries and 4 tablespoons of yoghurt mix. Repeat until you get to the top and chill in the fridge until you are ready to eat it!
Authored by Nature's Own Exercise Physiologist and Dietitian, Kate Save