The perfect example of how Aussies get better with age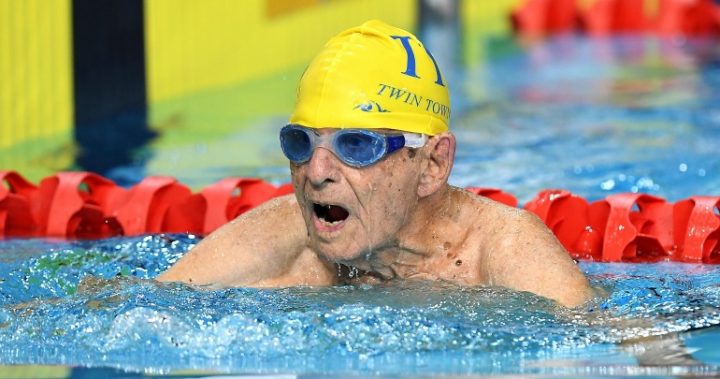 Anyone who thinks that life ends after the age of 60 clearly hasn't heard about this man.
George Corones has become somewhat of an Australian icon this week. The 99-year-old, who is set to turn 100 in April, broke a new world record at the Gold Coast swimming trials on Wednesday evening. While most people associate swimming with young and buff athletes, George proved that age is no barrier when it comes to sports.
If his participation in the event wasn't motivation enough, George actually broke a world record when he took to the pool. He is now the fastest man in his age group to swim 50 metres, clocking a time of just 56.12 seconds at the event.
He celebrates his 100th birthday next month, and only started swimming at the age of 80, but George Corones is now a world record holder in the pool. #7News pic.twitter.com/AJXtlqnc5j

— 7 News Sydney (@7NewsSydney) March 2, 2018
Ad. Article continues below.
The previous word record was set four years ago in 2014 by a man in England, although George smashed that effort by 35 seconds. A recent report that aired on Seven News suggested that George originally learnt to swim in outback Australia as a child. It wasn't until he turned 80 that he decided to take the sport more seriously.
"When you're in the water, you're in an anti-gravity environment and it's beautiful," he explained to Seven News. He was the only person to swim in the 100-104 age group at the event, but it looked as though George had something to prove in himself. Officials were seen assisting the swimmer onto the diving block at the event, but he didn't need any help when he was in the water.
"When I'm racing, nothing exists above the water," he said. "My eye is on that black line. It's kept me alive and kept me sane." He is set to swim again today but will be swimming 100 metres.
He has quickly become a celebrity around the world, with the whole nation behind him as he continues to defy the odds and become a swimming superstar. People have taken to social media to explain just how much of an inspiration George has become for them.
Ad. Article continues below.
One lady wrote: "Now THAT is inspirational. Suddenly I'm ashamed of my 43yo body niggles that I use as an excuse for laziness. What amazing deltoids. Mr Corones is the poster-boy for 'use it or lose it'. Bravo".
Another person said: "Like you I started swimming masters at 62 & this yr will be 68 & in awe of your swimming efforts [sic]". A third added: "He broke it? That means another 100 year old set it. Atta boy!"
What do you think? Does this inspire you to follow your dreams?