At-home palliative care trial gives Aussies more control over their own end of life
Sponsored Content
Health
2 weeks ago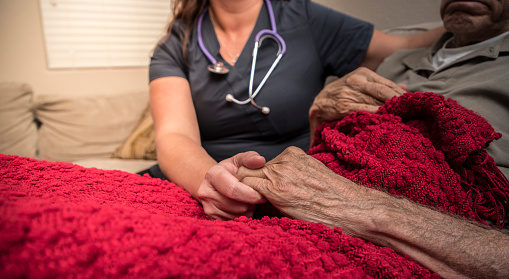 While we're living longer as a population, it's sobering to look at forecasts for the next quarter of a century, which suggest that the number of people who die in Australia each year will almost double.
And despite the fact that research cited in the Grattan Institute's Dying Well report shows 70 per cent of Australians would prefer to die at home, the reality is that only about 14 per cent do so. More than half die in hospital instead, 32 per cent pass away in residential care – the very places they were so keen to avoid.
As the Grattan Report points out, there simply aren't enough palliative care services in the community to cater for the number of people who want to spend their final days or months at home.
Health insurer Medibank recognised this need, and in August 2016 commenced a trial in Western Australia to offer palliative care in the homes of eligible members with hospital cover.
Working with a specialist community-based palliative care service provider, Medibank assesses each patients' needs so it can offer services including nursing, medical and psychosocial support, respite care, allied health care, domestic assistance and even the supply of equipment.
Helen, a palliative care nurse with the Medibank program, says choice and comfort at that stage of a person's life are crucial.
"I think it's really important people are given the choice of where they want their palliative care," she says.
"Being at home is not for everybody, but a lot of families, once they know there is a service there to support them, choose to be at home. They feel safe at home surrounded by their family – it's a non-clinical environment."
Helen also says that being at home gives patients a feeling of control over what's a very painful process.
"They're in charge – they can choose what they want to do and when they want to do it," she explains. "Even in a normal hospital they feel constrained because they are a patient in their pyjamas. Whereas at home it's their rules, they can do what they like."
Medibank's respite care offering, meanwhile, provides some relief for the patient's loved ones.
"In order for someone to stay at home they have to have the family support, so our job involves not only looking after the person with the illness but also their family," Helen says.
"People may think that palliative care is all doom and gloom and sadness, but it's not. We give them the chance to actually have some quality and some fun, and see out their lives how they want to do it.
"I can't change their diagnosis, but I can support them and their families to go through the process as gently as possible."
Medibank's Palliative Care at Home service also offers a bereavement care follow-up service for the member's families and carers. The program is still running as a trial but the insurer hopes that the early encouraging results will lead to a national roll-out, providing more Medibank members with the choice to receive care where they most want it.
"To improve the end stage of life we must advocate for patients to have a choice in where they die whenever possible, and to enable flexible care arrangements," says Rebecca Bell, General Manager Member Health, Medibank.
"We want our members to receive the best care possible from palliative care specialists and we can do this by bringing these specialists into their homes."
Has a member of your family received palliative care at home or in a hospital or hospice? What was their experience?