Nutritionists reveal 6 weight loss smoothies that won't leave you starving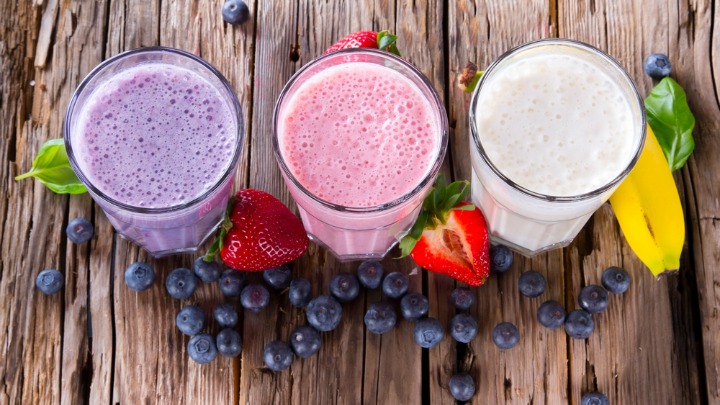 Want to lose weight fast? According to nutritionist Rick Hay who wrote The Anti Ageing Food & Fitness Plan, you can swap one meal a day for a nutrient-packed smoothie.
He told Healthista, adding ingredients like avocados, yogurt, almonds and chia seeds to fruit and vegetable-based creations can leave us feeling fuller for longer.
This makes dieting more sustainable as no one wants to stay hungry just to lose a few inches!
According to Hay, as a general rule of thumb, smoothies should involve a combination of leafy greens and fruit or fruit and nuts or fruit and a healthy plant based protein powder to make sure that the Glyceamic Load (GL) is reduced.
A diet higher in plant-based protein than in animal protein could boost your life expectancy and that has been backed by research.
Instead of sweet fruit and dairy laden smoothies that may be packed full hidden sugars, Hay has revealed these six recipes to Healthista which you can use to get started on your healthy diet.
Ad. Article continues below.
1. BREAKFAST REPLACEMENT- MORNING ENERGY BLAST
Blend:
Half an Avocado
2 cups of English Spinach
5 or 6 Cashews
1 Teaspoon of Chia or Linseeds
Unsweetened Almond Milk or Coconut Water 200 – 250mls
Benefit: It's a smart way to start the day with a kick of energy with magnesium and chloropyll.
2. MID-MORNING SNACK REPLACEMENT- BERRY BURST
Blend:
1 cup of Frozen or Fresh Berries
1 cup of Leafy Greens
1 tablespoon of Pumpkin or Sunflower Seeds
7 or 8 Almonds
A pinch of Cayenne or Turmeric if desired
Unsweetened Rice Milk – 200 to 250ml
Benefit: It's a skin nourishing, immune boosting super snack rich in phytonutients and high in vitamin C, and the greens help regulate blood sugars.
3. LUNCH REPLACEMENT – SWEET GREEN KALE DREAM
Blend:
1 or 2 cups of Kale
Half a Banana
Half an Avocado
1 or 2 Figs
200 – 250mls of filtered water or coconut water
promote healthy digestive function and regularity.
Benefit: Assists with mood and provides some natural energy, increases the protein content and fibre levels.
4. MID-AFTERNOON – SLUMP BUSTER
Blend:
1 cup of Blackberries
1 cup of Blueberries
1 teaspon of Linseeds
1 teaspon of Cinnamon
2 Dates
2 tablespoons of coconut or unsweetened organic greek style yogurt
Rice Milk 200- 250mls
Benefit: Helps to boost immunity whilst providing natural energy, increases protein and fibre levels.
5. DINNER REPLACEMENT – GREEN CLEANSER
Blend:
1 pear
1 apple
1 kiwi fruit
2 cups of spinach or lettuce
Filtered Water 200 – 250mls
Benefit: Improves and calms digestive function, soothes the gut and promotes regularity. High magnesium levels help to support the nervous system too.
Ad. Article continues below.
6. DESSERT REPLACEMENT – RASPBERRY CACAO BOOSTER
Another one from the Nutritional Blast book that makes a perfect chocolatey healthy dessert.
Blend:
2 cups of Raspberries – Frozen or Fresh
1 cup of Baby Spinach
2 teaspoons Cacao
2 teaspoons Chia Seeds
Quarter of a small Beetroot
Filtered Water 200- 250mls
Another tip shared by Hay us to not gulp your smoothie down but rather consume it over a five minute period – and preferably whilst sitting. Did you know that?
Have you heard of this recipe before?