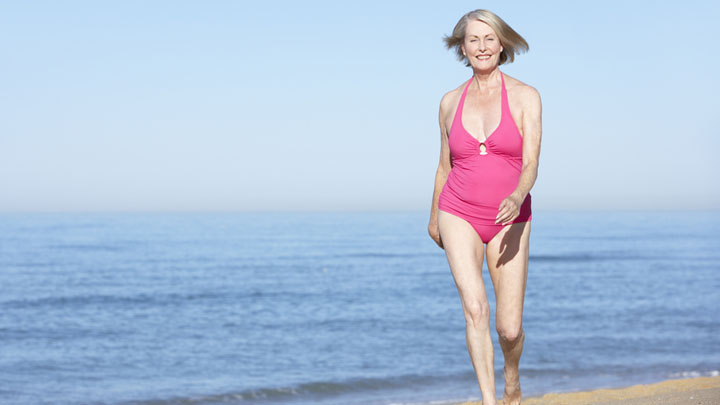 Strong and athletic, tall and graceful is how the typical Australian woman is described, but in reality, we come in all shapes and sizes. Australian women are considered to be among the most beautiful in the world – the camera panning around a beach crowded with beautiful young Aussies provides the proof. As we age, let us continue to maintain our country's reputation.
In recent years we have come to grips with age and embraced the ageing process – we know that life does not stop at 60 and maturity only adds to a women's beauty.
If you eat sensibly and exercise regularly you will have a neat figure and well-toned muscles – easy to say but often hard to achieve. Take a stand and make a start.
New Year's Resolutions For 2016. Pick one.
Take a season's ticket at the pool
Sign on for an exercise class
Buy a dog
Walk around your neighbourhood five times a week. Include some hills
Workout with and exercise DVD
Toss out the sugar-loaded food in the kitchen
Buy a kilojoule/calorie count booklet
List ideas for low kilojoule/calorie meals
Remember to count alcohol
Bring out the bathroom scales
Ad. Article continues below.
Happy New Year!
The Body Beautiful
You may need to wear a push-up bra to balance your bust with your hips. When dressed, your bust and hip measurement should be about the same. The push-up bra will flatter your bust line and décolletage.
All the exercises in the world seem to be unable to prevent flabby upper arms. We can only camouflage with sleeves – difficult because designers are not designing for the mature-age woman. The minute you see something with sleeves that you like, buy it.
Emphasise your best features
Ad. Article continues below.
If you have beautiful hands, remember to wear your rings – always clean and sparkly. Choose noticeable nail polish to highlight the perfect manicure.
Are you proud of your beautiful thick hair? Keep it stylishly cut and always immaculate.
I recently lunched with a friend who has very elegant feet. She was wearing gorgeous orange sandals with matching nail polish finishing a perfect pedicure. Stunning!
If your pretty face is your best feature, top it with a froth of curls, pay attention to your make-up and wear bright lipstick.
Not everyone can look like a supermodel – there are some tricks to looking slim. Here are 12 style tips:
Wrap dresses are the most slimming style.
Wear a narrow tunic over pants.
Choose straight-leg pants and jeans to keep you looking in proportion.
Never wear three quarter length pants. They can make you look shorter than you are! Full-length or ankle-length is best.
Avoid detail, pockets or tabs around the waist and hips of slacks and jeans.
However, have pockets on the backside of all jeans and pants to flatter the bum.
V-neck and open neck styles; a few buttons undone will elongate the upper body.
Give your body definition using a low belt or gently defined waistline.
An all-through colour is slimming. Dark colours, especially black are ultra-slimming.
A single-breasted jacket, not buttoned and showing a trip of shirt is slimming.
Wear high heeled shoes, wedges or platform sole. Extra height is flattering to the figure.
The most obvious characteristic common to all older women is how they look when moving. Posture is key to the body beautiful – stand tall, head high. Your best clothes and makeup will not do anything for you if you walk without a spring in your step. Walk tall. Walk proud, because you are a beautiful Australian woman.
Ad. Article continues below.
Share your thoughts below.