Lovely at 60: Make-up tips for mature women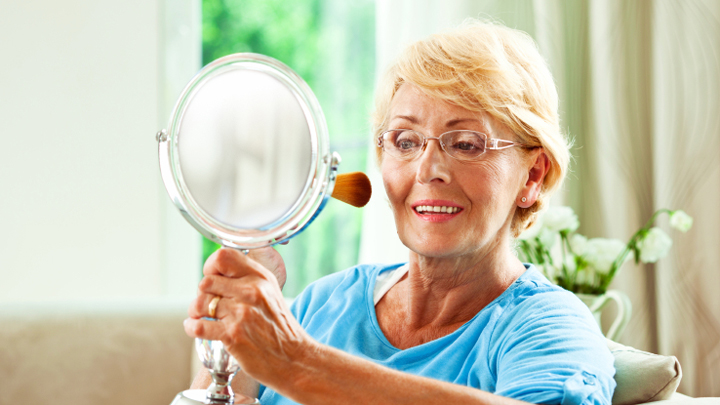 Now that we are coping with the effects of gravity, wrinkles and coarsening of the skin, we must rethink our use of foundation.
Liquid foundation tends to collect in wrinkles and folds. Sometimes the skin on our face can be a bit flaky, so liquid foundation looks awful.
If you like, gently apply a little gel powder before foundation or concealer or to give a flawless look when choosing not to wear any foundation. I find that gel powder tends to "roll up", so only use it sparingly. Wipe off any "rolls" with a clean handkerchief. It improves the look of open pored areas. Experiment with gel powder because it is worth trying. I use Avon's Magix face perfector.
If you have been using Retin A for a time and your complexion is looking good, you may be able to do without any type of foundation or gel powder. Just cover blemishes with concealer, make up the eyes, brush on some powder blush, apply lipstick and you are ready.
For a special occasion or if preferred, sweep over your face with a tiny bit of mineral powder on a brush in a colour to suit your skin.
Ad. Article continues below.
During the day you will need to keep the shine off your face with a pressed powder and puff. Not too much application of powder – you're just blotting away the oils.
MY SUGGESTED MAKE-UP ROUTINE
CLEANSING AND MOISTURISING
Cleanse your face with Cetaphil gentle cleanser, then apply moisturiser containing either peptides or liposomes, but not to any open pored or coarse areas (usually the chin and between the eyebrows). Apply astringent lotion there. I suggest vodka on a cotton ball but the choice is yours. Allow to dry. Next, perhaps some gel powder.
Ad. Article continues below.
COMPLEXION
If your complexion is even-toned and smooth, just some concealer on the blemishes and a smear of cream-to-powder foundation worked into any coarse areas. Cream-to-powder foundation is a good concealer and can also be worked into the edges of your lips to help define the lip outline ready for applying lipstick.
TOP TIP: A dab of astringent lotion or vodka, on top of the cream-to-powder foundation will refine coarse areas a touch more.
If your complexion needs to be evened-out, after applying concealer to blemishes and cream-to-powder foundation to coarse areas, sweep your face with a large brush loaded with a small amount of mineral make-up powder in a shade to match your skin tone. This is a very fine and light face powder which acts as a foundation. Use sparingly. It is perfect for mature skin. Mineral face powder is hard to manage because it is so fine and inclined to drift all over the working surface when tapping the brush to achieve just the right amount. Try spilling some onto a tissue and dabbing the brush in that, wiping and tapping on the tissue to adjust the amount. Just wrap the brush and all up in the tissue and pop into a ziplock bag ready for the next application. (Use the same technique for mineral blush). Don't put mineral powder on your eyelids, but sweep down under your chin and onto the top of the neck.
Ad. Article continues below.
Take a look in the magnifying mirror and blend any mineral powder, concealer or cream-to-powder foundation out of the creases. Brush off any "rolls" of gel powder.
If you didn't sweep mineral powder over your face and neck, you may like to remove any shine with your pressed powder compact puff, once again bearing in mind that you are removing oils not applying powder.
BLUSH
Using another large brush apply a sweep of mineral powder blush. Sweep from high on the cheek bones halfway up the temples. Use pink or terracotta and not too much – just a touch. Add another touch if one application is not enough.
Ad. Article continues below.
TOP TIP: A little illuminating eye shadow in a gold hue worked into your mineral powder blush will give a pearly finish. Make the illuminating eye shadow powdery with a stiff eyebrow brush so that it will mix well with the mineral powder blush.
Tell us, what other beauty tricks do you use daily?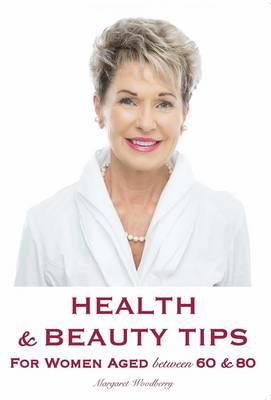 For other great Health & Beauty Tips For Women Aged Between 60 & 80, Margaret Woodberry's book is available for $23.25 via Booktopia.