Lovely at 60: Eyebrows, lips and lighting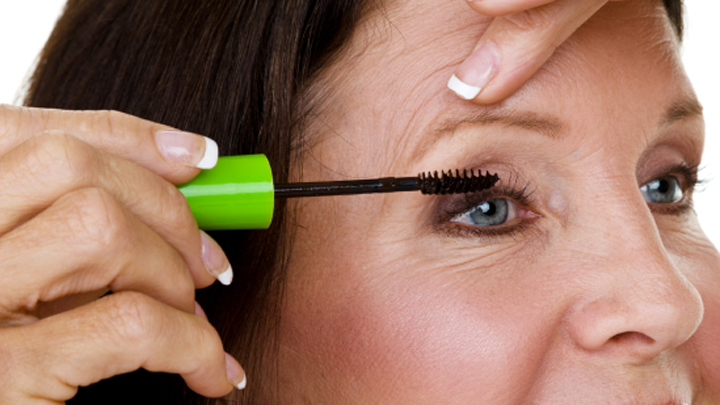 There comes a time when eyeshadow, eyeliner and mascara are just too hard to apply on account of arthritic fingers, wrinkles, crepey skin and poor eyesight. Remember, at a certain age the full amount of eye make-up does not look appropriate. However, you may like to enhance your eyes in some way.
EYES
Eyelashes
A lovely and convenient beauty trick is to have eyelash extensions applied. Not an overly expensive procedure. The lash extensions will last about six weeks or more with care. Do not wet the lash extensions for the first 24 hours after application. Try to sleep so that bedding is not pressing onto the lash extensions. Gently brush and position the lashes each morning. As you gradually lose lashes, just call in to your beauty salon and have some new lash extensions attached to fill in the gaps. Trim the lash extensions with sharp scissors if necessary.
Ad. Article continues below.
When washing your face, use a cotton bud to clean and dry around your eyes and avoid wetting the lash extensions too much, but do wash them carefully from time to time.
When washing your hair and rinsing under the shower, it's a backwards shampoo and rinse, with a washer folded across your forehead to keep the water as best you can out of your eyes and lash extensions.
If you don't have eyelash extensions, curl your lashes with an eyelash curler to position them up, up, up (see Gravity). Use a black mascara – not a lighter colour; be bold because you are most probably not going to use eyeliner. Spend time at your magnifying mirror brushing and separating the mascara coated lashes – use a sideways movement of the eyelash brush to achieve this. You can reduce clumping by removing excess mascara with a cotton bud. Forget about mascara on the lower lashes, it nearly always clumps and collects in the creases under the eyes.
Eyeliner is really difficult to apply with awkward hands and on deeper set eyes. Eyeliner underneath the eyes is likely to run and could look overdone.
TOP TIP: If you do choose to use an eyeliner pencil, sharpen it (just a half turn will do) between every use to remove any eye shadow or make-up residue. It will glide on smoothly to give a nice matching shade on each eye.
Ad. Article continues below.
Eyebrows
Our eyebrow hairs coarsen, change colour to grey and grow erratically in length as we get older. New hairs do not seem to form. We don't need to pluck very often, because new hairs are not growing. Beware of plucking out over-long brow hairs, new ones will not necessarily appear. Better to just trim brow hairs with sharp pointed scissors.
Eyebrows are the most important feature on your face. They frame the face and give definition. Have them dyed a colour to suit – as dark as you can go to suit your complexion. Your hairdresser can attend to this during your regular appointments.
I cannot emphasise enough the importance of prominent eyebrows to frame the face. Experiment if this is a first for you. Don't be nervous and remember to stand back and view the overall effect because this is what is seen by others.
Ad. Article continues below.
Tips
Clean any mineral powder out of your eyebrows with a cotton bud if necessary.
Shape your brows with a thick eyebrow pencil, then use a finer eyebrow pencil to define the shape – squared off edges are nice.
Brush with your eyebrow brush.
Finish with eyebrow gel.
Treat your eyebrows as sisters not twins.
Eyeshadow
Because our eyes become deeper set as we age, use a matte eye shadow in a pale flesh colour and matte white eyeshadow to bring the eyes forward.
Ad. Article continues below.
You can use a very pale ivory pressed powder as an eye shadow.
Apply eyeshadow all over the eye area from brow to lash line and extend into the corners beside the nose to even out shadows and cover dark areas. Use an eye shadow applicator.
Use a sweep of matte white eye shadow under the outer ends of the brow to add a highlight and bring the eye area forward.
Finish by blending with your fingertips if necessary. Be sure not to use any face cream or eye cream underneath the eye shadow/pressed powder.
TOP TIP: Brush a stiff eyebrow brush over the cake of eye shadow/pressed powder, to create a powdery consistency. Makes application easier.
LIPS
It is time for the finishing touch.
Ad. Article continues below.
Lipstick
First apply lip plumping conditioner to your lips to smooth and fill and plump. This will diffuse a strong lipstick colour – the effect will still be a noticeable colour but the intensity will be softened just enough to be more flattering.
Now apply the lipstick colour of choice using a reasonably strong shade. (I am enjoying a Fuchsia shade at present). Blot with a tissue.
Re-apply the lip plumping conditioner and lipstick and again blot with a tissue.
Edge with a hard, sharpened lip pencil to define the lip edges against the cream-to-powder foundation surrounding the lips.
This lipstick routine will help lipstick to stay on longer. You may prefer to go through the routine once instead of twice for "everyday". Because blotting will reduce the lustre of your lipstick, a tiny dab of gloss on the centre of the upper and lower lip, patted with your finger, makes a nice finish. Now run a finger in and out between your lips to prevent lipstick on the teeth.
TOP TIP: Keep the bottom lip full and shorten the top lip by as much as half an inch at the outer edges to give the up, up, up look (see Gravity).
Ad. Article continues below.
Lip Stain
I have recently tried lip stain and have had good success with the Cover Girl brand. It keeps the lips coloured all day, even after eating and drinking.
Apply the lip stain very carefully to the lips. You cannot afford to make a mistake or go over the edge because it doesn't wipe off.
Begin application in the centre of the lips to lessen the load of colour on the applicator so making it easier to outline the lip.
Keep your mouth open and stretched for 60 seconds whilst the lip stain dries. Apply the supplied gloss.
Apply lip plumper because we do still need to plump up the lips.
Apply lipstick in a colour to match the lip stain and to cover the lip plumper.
Run your finger in and out of your lips to remove lipstick and prevent stained teeth.
Whether you indulge in a bit of lip enhancement (see Botox and Fillers) or not, your lips are a very important facial feature. They frame everything you say. Freshen your lipstick after eating and drinking. How dreary we look without lipstick. Choose strong, clear lipstick colours to suit your complexion and a creamy texture for a dewy, kissable finish. Dior lipsticks are excellent and my favourite shades are Rose Trafalgar, Trafalgar Pink 565 and Fuchsia Star, Star Fuchsia 766. Avoid coral colours as these tend to make the teeth look yellow. Remember to keep lipstick on the bottom lip full and extended as far up as possible. Keep lipstick on the top lip shorter in length, to give that upward cupid's bow, smiling appearance. Now smile, smile, smile.
Ad. Article continues below.
LIGHTING
Whilst you need good lighting at your make-up station, don't overdo it because then the tendency may be to apply too much make-up. Lighting here needs to be moderate so that the amount of make-up applied is moderate. Have light brighter at the magnifying mirror where you are concentrating on details.
TOP TIP: After completing your make-up, dab a little of the peptide or liposome moisturiser under your eyes to minimise and moisturise fine lines. The under-eye area is particularly prone to dryness.
Ad. Article continues below.
COSMETIC PURSE
This is the small pouch that you carry in your handbag at all times and it contains:-
Lip plumper.
Lipstick to suit that day.
Lip outlining pencil.
A lip gloss if you are using lip stain.
Pressed powder compact with a mirror which can also be used for checking the back of the hair.
Concealer for touch-ups.
Eyebrow pencil for touch-ups.
Bandaids and blister treatment.
Panadol or similar.
Daily medications for emergencies and delays.
Small comb.
Cotton bud. Wedge it into a bandaid packet to keep it clean.
Toothpick for food-wedged-between-teeth emergencies.
A packaged feminine hygiene wipe.
A packaged panty liner.
Look out for samples and tiny sizes. Use nearly finished eyebrow and lip pencils in your cosmetic purse. If your emergency supply of daily medications is bulky, just have a separate purse for them.
Make-up will need to be adjusted to suit as the years go by, but do continue to enjoy trying new products and new shades and new ideas. As well as giving us confidence to face the world, make-up shows the world that we love and care for ourselves.
Ad. Article continues below.
Share your thoughts below.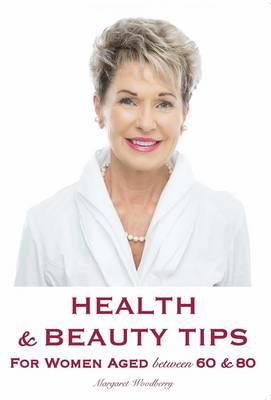 For other great Health & Beauty Tips For Women Aged Between 60 & 80, Margaret Woodberry's book is available for $23.25 via Booktopia.