Let's not make bladder leakage taboo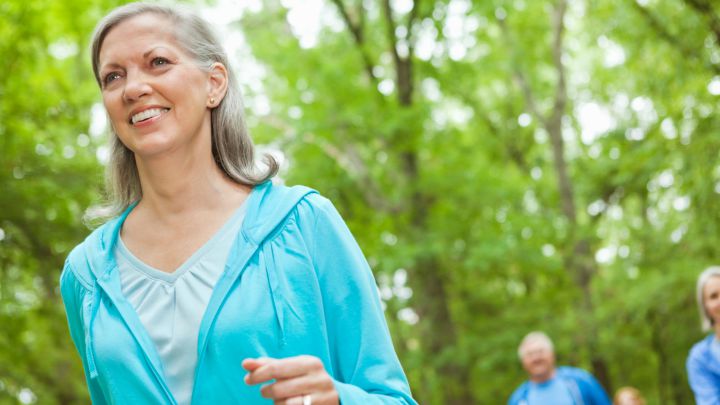 It's a topic we don't usually talk about but one that affects over 4.8 million people in Australia – I'm talking about bladder leakage.
A recent catch up with our community somehow veered toward the often unspoken conversation around bladder leakage. We were all surprised by just how many of us experience bladder weakness and leakage. The interesting thing is that the more we talked about it the more we all realised it really is something that can happen to anyone. And even though it is a big deal when it happens, there are plenty of things you can do to deal with incontinence so that you can get on with living life to the full.
It has the perception of an older person's problem, but let's face it – it isn't one, as I know so many of my friends and family have experienced it on and off since they had children.
One of the girls shared: 'Having to plan my trips around toilet stops is such a nuisance'. She then went on to tell us how her partner got a bit annoyed when their time together was punctuated by searching for a ladies.
Many of my friends have had that awkward and embarrassing heavy leakage moment. But then another lady chipped in with some advice – use the right product for heavy leakage. There is underwear that is specifically designed to protect against moderate to heavy leakage, as well as help prevent odour, to give you piece of mind that you're protected, in case you don't reach the toilet in time.
Ad. Article continues below.
As well as wearing the right product, there are other things you can also do, including bladder re-training, keeping up your fluid intake, losing weight around your tummy and learning to do pelvic floor exercises, all of which help with bladder leakage as well as your confidence. The thing is, as we get older, or perhaps as more and more people have the same problems in our age group, we can talk about these problems more and share the solutions designed specifically to tackle them.
For those who have not experienced bladder leakage or incontinence themselves but may have a partner or friend who suffers, it's important to normalise it –after all, it's something that happens to so many. And, of course, share the solutions! As well as extensive product choices, there are also so many helpful resources. Depend® has a great online tool to help you find the right product and protection for your needs.
As our community chatted, we realised that at least half of the group were going through the same thing – many for different reasons. One had lost muscle tone as a result of childbirth and for some of them it is just a part of getting older.
Something that kept popping up was the fact that many of us had stopped doing our favourite activities for fear of experiencing bladder leakage, which is a shame as in reality there are products out there that can help manage the condition. And these products have come a long way so today they are surprisingly comfortable and discreet. No more having to worry about feeling uncomfortable or worrying about what to wear.
It's nice to know you are not alone and that there are solutions out there that can help you or someone you know get on with living life to the full, despite having bladder leakage.
Ad. Article continues below.
Does this sound familiar to you?  Do you find that your weak bladder is getting in the way of planned activities? Do you talk about these issues and possible solutions with your friends? Share with us your stories of how you have tackled this and help open up this once taboo subject.
This is a real story, supported by Depend® to make the discussion about incontinence and bladder issues less taboo among over 60s. Depend® Real-Fit Underwear for men and women with bladder leakage was developed in response to research that identified a distinct consumer need. Real-Fit Underwear are specifically designed to fit and feel like real underwear and protect against moderate to heavy loss of bladder control.