Japanese centenarian is a fitness inspiration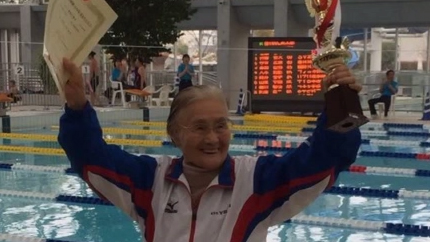 A 100-year-old woman has recently completed a 1,500-metre swim in 16 minutes. Sky News reports that Mieko Nagaoka now holds the world record for the oldest woman to complete the race.
Amazingly, Mieko only took up the sport 20 years ago at the age of 80.
This achievement reflects the findings of a recent Australian study into the correlation between exercise habits, overall health and life expectancy. The study found that working up a sweat through vigorous exercise has massive health benefits such as decreasing inflammation of joints, reducing blood pressure and reducing the fats in our blood.
The study recognised that that plight to get Australians moving through physical activity neglected to focus on the kind of movement that we should have been focusing on. Researcher Klaus Gebel, stated that was that people who did vigorous exercise were 13 per cent less likely to die prematurely than people who did only moderate exercise.
However researchers cautioned that even if you are not in the mood for an intense activity does not mean that you should give up the chance exercise altogether. The more physical activity you can do, the better.
Ad. Article continues below.
Why not give this a try? It is never too late to begin your fitness journey, just as Mieko did.
What are your exercise habits like? Do you think you should move more?