'I was dying': Aussie Open under fire amid extreme heat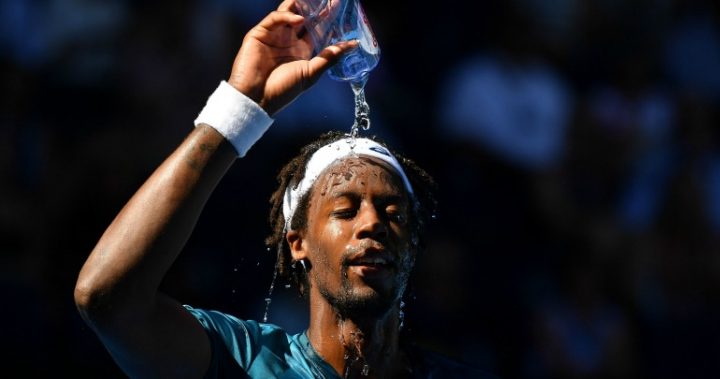 Tennis stars are being forced to battle it out in up to 40-degree heat this week in the Australian Open, and some players are now calling for action after struggling to endure the harsh conditions.
However, while some are beginning to really feel the heat, superstar Roger Federer has defended the decision to continue play at the Grand Slam tournament despite the scorching conditions – insisting there are measures being taken to care for the players. So what do you think?
French player Gael Monfils has hit out at the sweltering conditions, after taking on Djokovic in 39-degree (102F) temperatures in Melbourne on Thursday. And while both players appeared to struggle – reports put the temperature on the court itself at 69 degrees – and took breaks to douse themselves in water, it got to Monfils in particular.
"For sure we took risks," he told reporters after the match. "Honestly, I played two sets out of breath for nothing, just to please the officials. At the end, it's a bit risky."
Monfils was seen approaching the umpire mid-match to warn him he was close to collapsing, the Sydney Morning Herald reports. "Monfils is physically in a daze right now," Jim Courier said while commentating on the match at the time. "He is hurting badly. A 24-shot rally may have wounded him … he has got nothing."
Ad. Article continues below.
Read more: Suspicions of match fixing at the Aussie Open…
Speaking later, Monfils told reporters that while he believes playing in the heat is not unfair in that it impacts all players equally, he thinks there should be more time allowed between points for players to recover. Temperatures are only expected to rise on Friday, as Grigor Dmitrov takes to the court.
"Good luck for those guys," Monfils added. "I trained this winter in Miami and it was pretty hot and I thought I was very good. But I'm telling you, I was dying on the court for 40 minutes, so good luck to them."
Djokovic agreed the temperature was "brutal", and, according to the BBC,  he added: "I think there is a limit, and that is a level of I guess tolerance between being fit and being, I think, in danger in terms of health. [Today] it was right at the limit."
However, Federer has spoken out to defend the current rules surrounding on-court conditions. He told reporters following his win against Jan-Lennard Struff: "I honestly can't complain."
Ad. Article continues below.
Read more: Hundreds of Aussie athletes skipping Rio opening ceremony
"Rod Laver [Arena conditions] are usually perfect, especially at nighttime," Federer added. "We know it can be very hot here in Australia. I remember the days when we had four days of 40 degrees in a row a few years back. Now we got two. Most of the guys now have to play in 30-plus degrees conditions."
Officials currently have the power to suspend play and close the stadium roof if they deem the conditions to be too harsh. They were quick to defend their decisions this week to continue play.
"The health of our players is of paramount concern, but we need to be consistent with the outside courts so some don't get an unfair advantage," the tournament tweeted in response to concerns by fans online.
Do you think there should be further action taken in the harsh heat? Should there be more time allowed for players to recover between points?
Ad. Article continues below.
---
With Facebook removing news sites from your feeds we ask that you sign up for Starts at 60's emailers here. And to keep us on your wall, join some of our new Facebook groups and clubs:

News Junkies Club – Australia
News Junkies Club – USA 

See news on the change and links to all our other clubs and groups here.