How to tactfully lose (his) belly fat!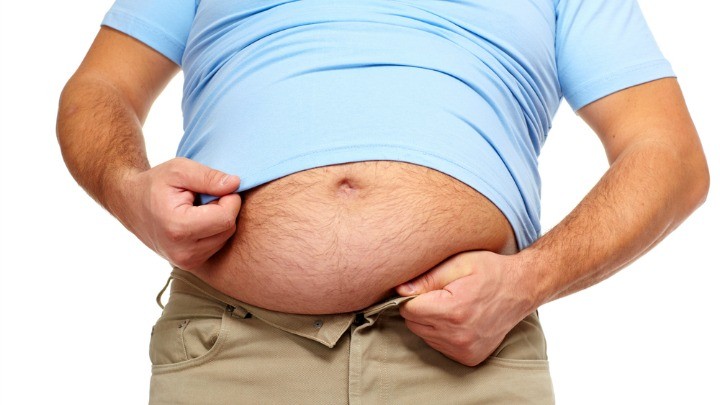 Going on a diet can be hard at the best of times, but even more so if one of you needs to lose weight but the other doesn't.
Matters came to a head in our household after my partner visited the doctor for a checkup and he came back with a list of issues so long it must have given the doctor a cramp writing them out. Not only was my man unfit and overweight, but his blood pressure was through the roof and his cholesterol was far too high.
The doctor put him on a low-carb, low-fat diet with strict instructions to get up off the couch and start walking every day.
We decided the only way to tackle the issue was with a united front.
Here are some of the measures his doctor recommended and we implemented.
Ad. Article continues below.
All the bread and potatoes went in the bin, along with the cheese and every bit of processed meat in the fridge, plus the butter. Ordinary oil was replaced with olive oil in cooking. Sugar was banned, as was salt. Thankfully, chilli and pepper were still allowed so our food could have some kind of flavour. We got rid of Diet Coke and replaced it with soda water.
A pretty standard daily menu was:
Breakfast: A low GI cereal such as Vogel's Ultra-bran soy and linseed flakes, plus skim milk and coffee or tea with skim milk and no sugar.
Morning tea: A handful of almonds
Lunch: Low GI wrap with lettuce, ham off the bone or chicken and a low-fat cream cheese.
Ad. Article continues below.
Afternoon tea: If hungry, a granny-smith apple.
Dinner: Large stir-fry with heaps of vegetables, plus meat, but minimal rice  and minimal low-fat sauce (usually we used just a little bit of chilli-jam).
Exercise-wise, we bought a treadmill and installed it on the back patio so there was a nice view out over the garden, plus a couple of exercise mats and some weights for stretches and building muscle. We developed a simple 20-minute routine that we tried to do every day, but in reality managed only about five times a week. We also tried to take the dogs for a walk almost every day after work.
So, three months on, we are both slimmer and fitter. I won't pretend it has been easy though. There are times we would give our eye teeth to scoff a packet of TimTams, but even though I am slimmer than my partner and do not need to diet to the same extent, I try and be supportive and not eat anything he cannot when I'm with him. And if we do ever stray from the straight and narrow, we try to limit it to just the occasional small treat and not binge eat.
One mistake we made early on was to try and cut out too many carbs from our diet, which left us sluggish and moody.
Ad. Article continues below.
There are numerous diets out there and as most experts tell you it is a case of eating sensibly and making long-term lifestyle changes if you want to lose weight and keep it off.
Here's a link to a past useful blog on the Starts At 60 website: Carbs? Low carbs? No carbs? Dieting after 60.
Oh, and one of the biggest benefits of all this healthy eating and exercise? We have rediscovered romance afresh, both feeling a lot sexier and more confident.
Do you try and keep your household on the right path when it comes to a diet? Do you battle to stop yourself putting on weight, for that matter? How do you support your partner?