How to get fullness back in wiry, grey or sparse eyebrows and eyelashes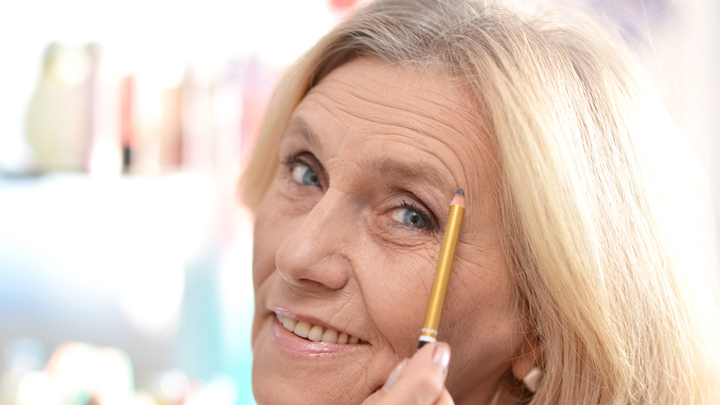 As we age, our eyebrows and eyelashes lose their shape and thickness. Luckily, there are some easy ways to get them looking full again without spending a fortune!
EYEBROWS
The perfect shape
There are some very basic rules when it comes to brow shape.
Hold your eyebrow pencil vertically so that the tip is at the beginning of your brow and the bottom is just brushing the side of your nostril at the base. This is where your eyebrow should begin – directly above the inner corner of your eye.
Then hold the pencil out from your nostril out past the corner of your eye – this is where your eyebrow should finish.
Any shaping of the arch should take place directly above the outer edge of your iris.
Ad. Article continues below.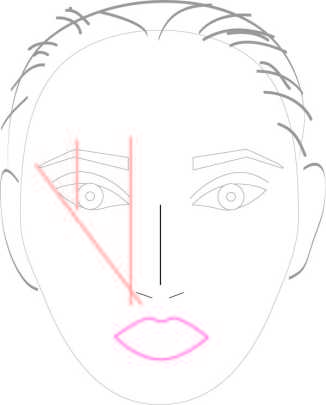 Tinting
You can have this done professionally by a beautician or brow technician, or you can do it at home easily. It will bring more definition to greying eyebrows, and may make darker eyebrows look fuller.
Defining your brows
Ad. Article continues below.
There are many ways to do this and it is important to find the products that suit your needs and colouring best. Some ladies prefer to use a pencil, while others prefer a powder or a combination of both. There are even specific mini mascara-like products designed just for eyebrows.
Whatever you choose, remember to go very softly with light feathery strokes and keep in mind that you want them to look naturally beautiful.
How to get perfect eyebrows:
Wipe any makeup or powder from your eyebrows with a small piece of tissue or a cotton bud, then brush with your eyebrow brush.
Then use a sharp eyebrow pencil in the same shade to define the edges.
You may choose to stay with eyebrow pencil. Have a thick soft pencil for feathering colour and a fine sharp one for the edges.
A little eyebrow gel brushed on now to hold everything in place.
Eyebrow templates are also a great option for quickly and easily colouring and shaping eyebrows. Also, don't forget to use a magnifying mirror to make sure your eyebrows are perfect.
Ad. Article continues below.
Common eyebrow issues
Patchy
As we get older, our hair begins to thin all over our body and makes us look older than we are, and our eyebrows are one of the most noticeable places that thin out.
To get thicker brows, use a brow powder to fill in your patchy spots with a stiff, angled brow brush – it will make your arches thicker without looking fake.
Ad. Article continues below.
Overplucked
When we were younger, sometimes we may have overplucked our eyebrows to stay with the trend at the time but now it's left us with thicker eyebrows at the beginning that trail off into nothingness.
To lengthen your brows, find out where it will end by using the steps above and drawing a spot there, then draw on the end with light feathery strokes.
GreyingHaving grey eyebrows can make it look like you have none at all, or are older than you feel.

For just a few greys: Use an eyebrow marker to match your original eyebrow colour and paint over your grey eyebrows
For quite a few grey hairs: Use a tinted brow gel that's a bit lighter than the non-grey hairs
For all grey eyebrows: Dyeing them will be your best chance at getting them looking fabulous again. Most hairdressers offer this service.

Non-existent

Those who have gone through chemo and/or have just never had very full brows may find themselves at 60 without any at all. If this is the case, you can still draw on very convincing eyebrows without needing to get a tattoo!

All you need is a good eyebrow pencil and a magnifying mirror. Then simply:
Find the points of your eyebrow and make dots – where it should start, where the arch should be and where it should end
Join the dots by going from the beginning to the middle with small, light strokes
Do the same to the end of your eyebrow and repeat on the other side
EYELASHES
You may have noticed your eyelashes are looking a bit on the thin side, but you are not alone. There are a number of ways you can thicken those lashes to give the illusion of a much fuller eyelid, which will compliment a daytime or night time look.
Eyelash extensions
According to Starts at 60 beauty expert, Margaret Woodberry, a convenient beauty trick is to have eyelash extensions applied. It is not an overly expensive procedure and the lash extensions will last about six weeks or more with care.
She suggests avoiding wetting the extensions for the first 24 hours and try to sleep with your face away from the pillow.
Then, gently brush and position the lashes each morning. As you gradually lose lashes, just call in to your beauty salon and have some new extensions attached to fill the gaps.
Use makeup to thicken
There are a few easy tricks to use to give the illusion of thicker eyelashes.
Dust on some talcum or translucent powder before you apply your mascara or thickening products.
Apply your thickening mascara from the roots up, wiggling the brush from side to side.
Finish by curling with an eyelash curler
Fake eyelashes
If you're going out for the night and want to look glam, your eyelashes can really make your makeup pop. If your eyelashes are quite sparse, false eyelashes will give you a whole new set.
Choose the style you want – eyelashes now come in full strips, three quarter pieces, or clusters. There's thick or thick ones or even ones with glitter or sparkling bits. Find one that suits your look.
Glue – most false eyelashes come with a little glue bottle in the pack but some can have an adhesive strip attached. Combine the glue and adhesive for a super strong stay.
Trim – you'll notice when you check the size of your lashes that they might be a bit too long. Get some nail scissors and snip the ends so you have an even arch.
Shape – bend you false lashes into a C before applying. Hold this so your eyelash follows your natural eye lid otherwise it'll fall off.
Apply – tweezers or your fingers are the most common ways to do this but an eyelash applicator can also help. Put a thin layer of glue on the strip and wait for 10 seconds before applying as you want it to get a bit tacky to stick better.
Use a magnifying mirror – there's an art to applying lashes and not everyone gets it the first time. Place on top of your natural lash line and

not

on your eyelids.
Tint your lashes
If your eyelashes have gone grey or are naturally light, you can tint them either at the salon or home. This will make your lashes look fuller especially if they are light and not visible.
Try eyelash fibre mascara
Forget about thickening mascara if you have super thin lashes – there's a new type of mascara out on the market. A lot of brands sell a fibre mascara which does the job of lengthening and thickening without having to get extensions or applying multiple coats.
Tell us, do you have sparse eyebrows or eyelashes? How do you make them look full?