How is dairy really affecting my weight?
Sponsored Content
Health
2 years ago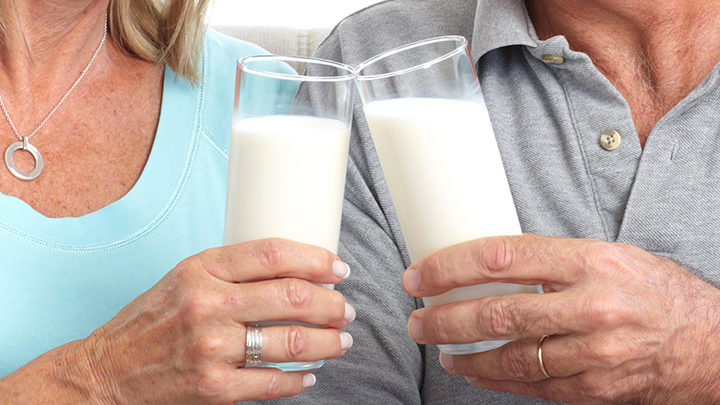 There is plenty of confusion about how big a difference dairy can make for those hoping to achieve and maintain a healthy body weight.
The simple truth is that dairy can absolutely help and is an important part of a balanced diet.
But what does this really mean? How much dairy do we really need? And how can the average over-60 Australian achieve this on a practical, day-by-day basis?
What does this mean for my weight?
Only 1 in 1000 women over 50 meet their daily recommendations for the dairy food group.[i] One significant barrier is the long-held belief that dairy foods will lead to weight gain.
Thankfully, the evidence says otherwise. A review of the evidence by the National Health and Medical Research Council (NHMRC) in the latest Australian Dietary Guidelines found no link between eating milk, yoghurt or cheese and weight gain.[ii]
In fact, including adequate amounts of milk, cheese or yoghurt as part of calorie-controlled diet (compared to diets with inadequate dairy) has been shown to result in:[iii],[iv]
greater weight loss
increased muscle mass
reduced fat mass
reduced waist circumference.
This means that women can feel confident that enjoying dairy foods will not lead to weight gain. In fact, scientific evidence shows if they incorporate dairy foods into their diet and exercise program as part of a weight loss effort, they can potentially see greater results.
What does this mean for my diet?
Dairy foods are one of the five food groups recommended for good health according to the Australian Dietary Guidelines.
However, Lucinda Hancock, CEO of Nutrition Australia's Victorian Division, says Australians are only consuming around half the recommended servings of dairy products and nutritious vegetables each day – and relying on far less nutritious sources of energy.
"Having a healthy diet is all about balance," she says, "but unfortunately the average Australian gets over 1/3 of their daily energy (kilojoules) from unhealthy foods and drinks like sweets, baked goods and fried foods".
"And alcohol tops the list as the biggest contributor of excess energy for people over 50!"
By cutting down on these unnecessary foods and drinks, your calorie intake will leave more room for dairy in your diet – and with it, the many nutrients that can help you the most.
These nutrients are extremely important to the weight loss process. The beneficial effects of dairy foods within weight-loss diets are thought to be explained by the following:
Dairy calcium may reduce the amount of dietary fat absorbed by the body.
Some studies suggest dairy foods may help to reduce feelings of hunger and the desire to eat.
Dairy foods are a source of protein – a macronutrient with a well-known positive role in weight loss.
How much dairy do I really need?
More than most of us might think. As we get older, our dairy requirements increase drastically – and it's far more than our weight at stake.
"One reason to have more dairy and calcium as we get older is to maintain bone strength," says Ms. Hancock.
"Changes in the body after menopause can accelerate a woman's rate of bone loss, which is why women over 50 are advised to have 4 serves of dairy a day, and men over 70 should aim for 3 ½."
"It's easy to boost your dairy intake. A glass of milk, two slices of cheese and a tub of yoghurt is 3 serves already.
"But dairy is also a great accompaniment food and small amounts add up, like a dollop of yoghurt on cereal, cheese sprinkled on an omelette or the milk in your latte."
Upping your dairy intake is a great start to better health along with regular exercise. The Department of Health recommends older Australians aim for at least 30 minutes of activity a day. If in doubt, please speak with your doctor about the best activities for your unique needs.
Ready to work more dairy into your diet? Follow the links below for more information – and some great recipes to get you started!
This post is sponsored by Dairy Australia. For more information, please visit the Legendairy website.

[i] Australian Bureau of Statistics [Internet]. Canberra: ABS; 2016. Australian Health Survey: Australian Health Survey: Consumption of Food Groups from the Australian Dietary Guidelines, 2011-12. Cat 4364.0.55.012. Available: http://www.abs.gov.au/ausstats/[email protected]/Lookup/4364.0.55.012main+features12011-12
[ii] National Health and Medical Research Council (NHMRC) (2013) Australian Dietary Guidelines, Canberra, Australia
[iii] Chen, M, Pan, A, Malik, VS and Hu, FB (2012) Effects of dairy intake on body weight and fat: a meta-analysis of randomized controlled trials, Am J Clin Nutr 96(4):735-47
[iv] Abargouei AS, Janghorbani M, Salehi-Marzijarani M, Esmaillzadeh A., (2012) Effect of dairy consumption on weight and body composition in adults: a systematic review and meta-analysis of randomized controlled clinical trials. Int J Obes. 36(12):1485-93