How I dealt with foot pain and what you need to know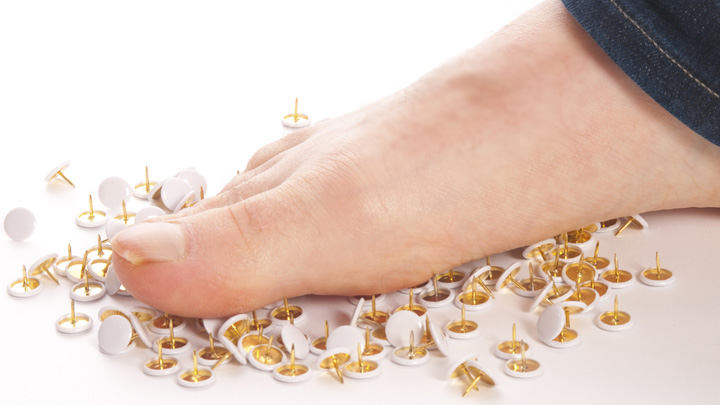 One morning some months ago, I got out of bed and felt a stabbing pain in my right heel. Having never experienced anything like this foot pain before, I was keen to research these symptoms that were very uncomfortable.
What are the common symptoms when your feet don't work?
One of the more common foot injuries treated by foot and ankle physicians is plantar fasciitis a debilitating condition characterised by subcalcaneal pain and is thought to develop due to a number of factors including abnormal foot stress and overuse.
There are several excellent studies that show the benefits of orthotic products. My research showed that cheap foam shoe inserts that can be purchased at chemist outlets are not effective – feet deserve better.
There certainly is no 'one-size-fits-all' solution – when searching remember your feet are your personal foundation. Like many fellow humans I mistakenly took my feet for granted – not wise, as I was soon to find out.
Ad. Article continues below.
With the exception of business shoes my casual footwear was purchased with very little thought. If they felt comfortable, I bought them.
Statistically there is a significant difference between the groups and types of casual footwear quality regarding arch and heel support.
I am guilty of wearing flip flops (known as 'thongs' in Australia) not only can this type of footwear badly affect support on the heel ankle and arch areas but the toes can be dramatically affected because of the 'clawing' action your toes use to retain grip this motion can have a devastating affect on your foot tendons which in turn affects muscles in your back – toes are important for balance and 'take-off'.
There are many painful conditions the human body will endure through its life although sore heels and arches may not be as painful as toothache or a kidney stone might be, the symptoms of those aches and pains affect one particular area but – as I discovered, bad foot posture can be responsible for balance, and even neck and lower back pain – there are more symptoms than this, some amazed me, might be a good time to think about your flip plops.
It was mind boggling to me just how much affect bad foot posture can have on your body to all ages healthy feet are our bodies foundation it is surprising what you learn when you talk to feet professionals.
Originally published here
Do you have foot pain? What have you done to ease symptoms?