Home hair colouring tips that will save you hundreds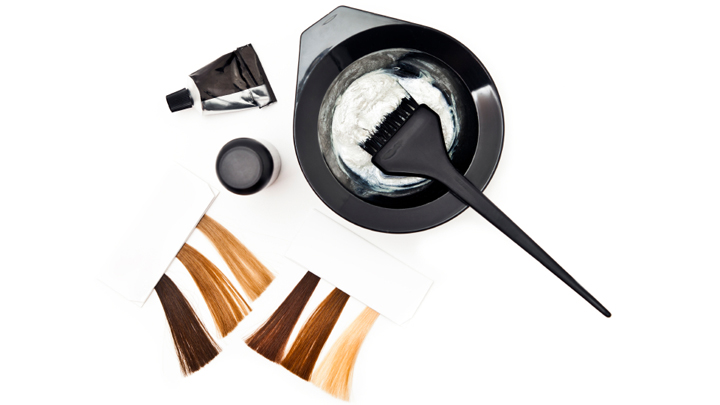 Let's face it: hairdressers can be costly, especially if you regularly have your roots done or greys covered. Luckily, doing your own hair at home is much easier and cheaper than it looks…
Here's what you need to know!
1. Identify natural colour
If you're dyeing your hair for the first time at home, you'll need to know what your natural colour is before you start. It's not as easy as saying brown, blonde or black – you need to be able to identify it on a packet of dye.
2. Tools you'll need
Ad. Article continues below.
Before you begin, make sure you have a: tail comb, shower cap, colouring brush, bowl, clips, vaseline, old towel, old shirt, gloves, and toothbrush
3. Permanent colour
Permanent colour uses ammonia to so it can allow the colour to penetrate the follicle. The colour with fade a few shades and will need to grow out or be re-coloured.
4. Semi-permanent colour
Adds shine and boosts colour – it doesn't lighten hair. You should get about 30 washes. This option is better if you're going darker as you can't go back from black if it's permanent!
Ad. Article continues below.
5. Always do a strand test
Even if you've coloured your hair at home before, it's worthwhile doing a strand test. You'll thank us later!
6. Take care for lighter hair
Be careful if you're applying a darker or brighter shade to blonde, bleached, permed or fine hair, as the result can be more vibrant than expected. A spot test will prevent a colour disaster!
7. More is better
Ad. Article continues below.
If you have long hair, you'll get a better result from two or more packs – the more dye on your hair, the less likely it'll be you'll have patches undyed.
8. Use Vaseline/petroleum jelly
Before you begin colouring, put some Vaseline around your neck, ears and hairline. It'll protect you from getting hair dye everywhere.
9. Regrowth
If you want to touch up the regrowth of lightened hair, apply colour to your regrowth first and wait until it has lightened to match the ends, then massage the colour through the rest of the hair and rinse after about 5 minutes.
Ad. Article continues below.
10. Beware, foil
You can attempt to foil your hair but as you get to the back, it might be difficult to get it 100 per cent correct. I personally have done the ombre/balayage on my ends and had a good results.
Stick with a hairdresser for more complicated hair dye applications.
11. Toner
If your hair has gone a bit brassy or orange after dyeing, you can tone it at home cheaply, either via purple shampoo or silver toner. The colour in these toners will neutralise the brassiness, and will need to be done every few weeks.
12. How to do your own regrowth (not for bleaching)
Brush your hair and get out all tangles.
Drape an old towel around your neck.
Determine where your regrowth stops.
Use a tail comb to accurately create 4 sections – one down the exact centre, and one from ear to ear, it should look like a cross.
Mix your colour and developer together as per the pack
Remember to put protective gloves on before you start applying colour.
Start at the bottom of your hair and apply to colour to your roots with a colouring brush.
Work your way around your head and be conscious of the time – it's better to work fast or with a friend. The top part of your hair is most important. Take 0.5cm strips (divide with your tailcomb)and apply colour, then flip to other side once done.
Once you've complete your dyeing, work the colour through the rest of your hair (only if you need/want to). Rinse out!
Tell us, have you ever dyed your hair at home?