Hide spider veins, lumps and blemishes on your legs with these simple tricks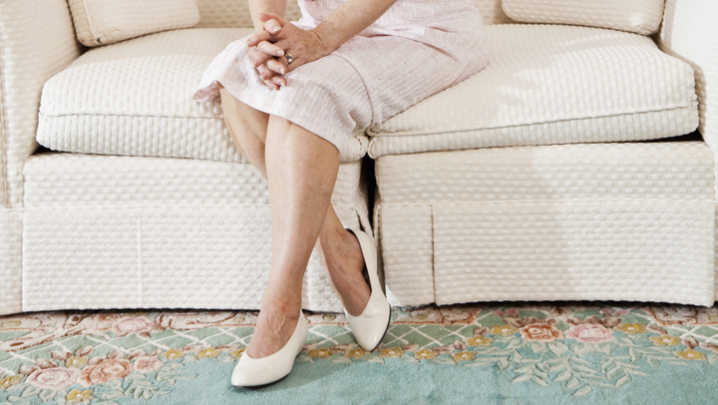 Our legs often bear the brunt of our busy lives and as a result can look a bit worse for wear with lumps, bumps and veins.
If you more often than not cover up your bare legs, now is the time to put your best foot forward and make your pins look great for summer.
That might sound impossible if you have legs you'd rather hide away, but you might be surprised by the options out there that can turn a veiny leg smooth and blemish free.
1. Exfoliate
If your legs are feeling tight and dry, it's a sure sign they are crying out for moisture and attention. The best thing to do is exfoliate well and regularly, then apply a nourishing moisturiser afterwards, particularly when you shave.

2. Apply makeup

We've all heard the saying "Fake it til you make it" and it applies to our legs as well. We put makeup on our face, so why not on our body? There are a number of products designed to cover body blemishes and veins, and work much the same as your face makeup.
Step 1: Exfoliate skin and moisturise.
Step 2: Squeeze your product onto a clean surface/palette and dip in a makeup sponge
Step 3: Apply to your legs and blend thoroughly, especially over the veins or other marks
Step 4: Use concealer for extra coverage
Step 5: Apply translucent powder to set
Depending on what you're looking for, there's a product available to suit. MAC do a face and body foundation with great coverage, as do Dermablend, who have a formula famous for concealing even the most bright and elaborate tattoos. Otherwise, there are spray can options. Here are our favourites:
DERMABLEND Leg & Body Cover 100 mL
SALLY HANSEN Airbrush Legs 75 g
MAC Studio Face and Body Foundation 50 ml
3. Put on fake tanner
If your legs just need a bit of a sheen, you can apply fake tan. Tanner evens out tone, hides imperfections, and just makes everything look a whole lot better. You can get a gel, cream or spray and apply yourself at home. Here are our fake tanning tips.
Ad. Article continues below.
4. Massage
Stimulation is key, either through regular activity, massage, exfoliate or a topical cream. Ask someone to give you a leg massage once a week, or do it yourself to get the blood flowing.
5. Increase your fluid intake
Fluid intake is important: drink plenty of water and avoid diuretic drinks such as tea and coffee which eliminate water fast. You may not feel thirsty but it's worthwhile to keep your fluid levels up.
Ad. Article continues below.
6. Consider seeing a doctor
If your varicose veins are so unsightly you can't bear the thought of showing your legs, it might be worth seeing a doctor. They will usually recommend that you don't do anything to your varicose veins but if you are suffering from severe symptoms, surgery might be recommended. These are the options available:
Sclerotherapy – a chemical is injected to scar the inside of the vein, making it close off and fade away. This can be done in a doctor's office and may require additional treatments.
Laser surgery – directed light makes smaller varicose veins fade away
Endoscopic vein surgery – the doctor makes a small cut near a varicose vein and looks through a tiny camera to close it off.
Ambulatory phlebectomy – the doctor makes small cuts in your skin to remove smaller veins close to the surface.
Vein stripping and ligation – this is only for severe cases that involves tying the veins shut and remove the veins through cuts. Sometimes you may need to stay in hospital for 1-2 weeks.
If you have unsightly veins but would prefer to avoid surgery or treatment, you can wear support stockings that lift the leg veins.
Tell us, do you feel comfortable showing your bare legs? Will you give any of these ideas a go?