Four simple tricks to keep your bones healthy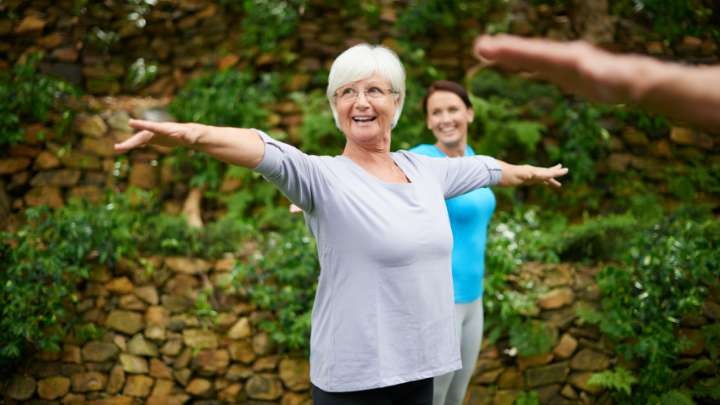 We all worry about lingering pain and discomfort in our older years, and bones are a big area for concern. But there are some simple things you can do – starting today – to drive better bone health. Read on for the best tips, and tell us: which do you perform regularly?
Two in three Australians over 50 currently have either osteoporosis or osteopenia. In other words: your bones are thinner, more fragile and less healthy than they need to be for an active, happy life.
What this ultimately means is that our bones can be more easily fractured, we can suffer chronic pain from bone-related issues, and we can eventually end up with enduring and serious illness.
Most of us know that bone health is especially crucial for older women, who lose up to 10% of bone mass after menopause. Half of women over 60 will one day suffer a bone fracture as a result.
But what we aren't often told is how preventable the bone-related issues are.
Ad. Article continues below.
Here are four simple steps for improving your bone health. How many are you practicing daily?
Step one: Add more dairy to your day
An overwhelming 90% of Australian women over 50 fail to meet their daily intake requirements for the dairy food group. Simply consuming four serves of dairy per day will give your bones the calcium boost they need to keep strong.
A single serve can include:
One cup of milk (250ml)
¾ cup of yoghurt (200g)
Two slices of cheese (40g)
Half a cup of ricotta cheese (120g)
Ad. Article continues below.
Step two: Carry your weight
While we'd all love to commit to more exercise, we're not often told which activities can best help our bones.
The answer is simple: take on activities in which your body supports its own weight. Tennis and walking are both great examples.
By performing a weight-bearing activity three or more times a week, you will not only improve your bone strength, but also your muscle strength and agility – all of which will be increasingly essential to our livelihood in the years to come.
Step three: Soak in some sun
Ad. Article continues below.
A little vitamin D will help absorb calcium, as well as regulate it in your bloodstream. Make sure you get a small, healthy amount of sun exposure every day. This amount will vary wildly based on your location, so be sure to balance this against your usual skin safety precautions. 
Step four: Commit to change – here and now
For Australian women over 50, it's never been easier to improve your bone health.
As part of this year's Healthy Bones Action Week, women are invited to sign up for the free Fit, Fab and 50 Challenge, running from 3 to 9 August.
The Challenge is easy: enjoy four serves from the dairy food group, participate in weight-bearing exercise and soak up some sunshine for vitamin D every day for seven days.
Ad. Article continues below.
Participants will receive tips, healthy and easy-to-make recipes, fitness suggestions and advice from a team of hand-picked experts – not to mention the chance to win some fabulous prizes.
Sign up today at www.healthybones.com.au to kick-start your journey to better bone health.
Have you dealt with osteoporosis? Do you feel like you're doing enough for your bone health today? And what would you like to change?
This post was sponsored by Dairy Australia. It was written as we feel it offers vital insights into a health topic important to the Starts at 60 community. Learn more at the Healthy Bones Action Week website.