Feeling dry and lacking libido after menopause? This gel could be your saving grace...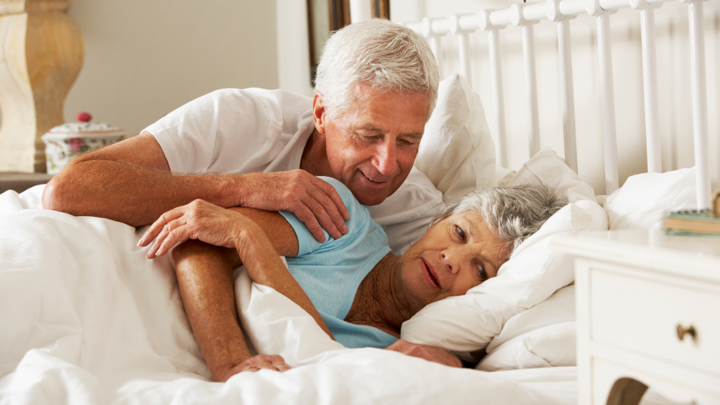 Menopause can leave us feeling exhausted years after it wreaks havoc on our hormones and body. Some of us may escape lightly, while others of us have ongoing issues as a consequence of menopause. Osteoporosis, joint pain, depression, weight gain and sleep disturbances are just some of the lasting effects of menopause, but one that can upset not only us, but our partner, is our sexual drive. As oestrogen depletes in our bodies, it takes away the natural lubrication, making sex painful, but it doesn't have to be that way…there is a new gel that could have you excited about sex again.
Ad. Article continues below.
Trials have shown that post-menopausal women with vaginal dryness can have enjoyable, pain-free sex with the new once-daily hormone treatment, VagiCap.
The tear-shaped soft gel is easily inserted and may be a good alternative for those who have issues with oestrogen delivered through HRT as it does not enter through. Dr Sheryl Kingsberg of the UH Case Medical Centre in Cleveland presented the product at the International Society of Women's Sexual Health Annual Meeting and said, "Menopause is typically associated with hot [flushes], but there are other common and distressing symptoms such as pain and discomfort during sex due to lack of oestrogen…this condition can really impact their quality of life".
In the clinical trial of women aged 40-75 who used VagiCap, 63 per cent reported an improvement in quality of life after only two weeks. Spontaneous sex is a thing of the past for some women who do have vaginal dryness, as they can find it stops things in the heat of the moment. Dr Kingsberg said "There is medical consensus that oestrogen administered locally is the preferred mode of treatment for both symptom reduction and restoring and maintaining healthy vaginal tissue and sexual function".
While the VagiCap is not yet available, if it is available in Australia, it could change our attitudes towards post-menopause and how we can maintain our quality of life.
Would you use this product? What products do you use to maintain your sex life in your 60s? Tell us below.