Exercise with arthritis: Why everyone needs to do it and where to start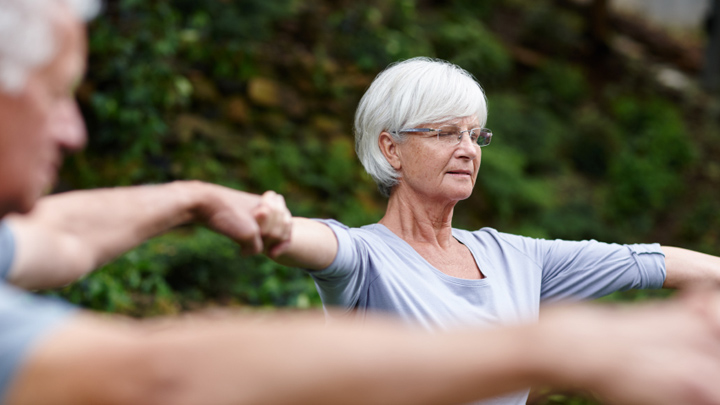 The multiple benefits exercise brings to the body and mind are common knowledge these days. The bottom line is clear: everyone needs to exercise to achieve and sustain good health. No argument.
People with arthritis can be mistakenly think exercise can worsen their problems. Well, this could not be further from the truth. It's even MORE important to keep moving. Otherwise joints can freeze, muscles weaken and pain increases.
But it can be quite challenging for someone with arthritis to find the right exercise and the perfect balance between activity and rest. Both doing too little and too much can have a negative impact. It's a bit like walking on a tightrope!
So it's really important to find the right type of exercise, as well as the right intensity and frequency. This way, you won't hurt your joints but will reap the plentiful benefits of getting active. Building up a little sweat is actually a good thing.
Ad. Article continues below.
Is it safe?
Research shows that people with arthritis can participate safely in appropriate, regular exercise. This goes for autoimmune rheumatoid arthritis as well as osteoarthritis.
A research paper by the UK Department of Rheumatology and Bangor University concluded "The importance for the inclusion of exercise training in the treatment of RA is now clear and proven". A US study found that "exercise programs appear to be effective in improving functional physical fitness and perceived ability to perform ADL (activities of daily living) measures in older adults with osteoarthritis and rheumatoid arthritis". Another study also mentions "significant improvements in depression and anxiety".
The main benefits are reduction of bone loss and improvement in joint motion – the holy grail for people with arthritis. Reduction in small-joint damage, enhanced coordination and better balance also comes from exercise. Not to mention keeping a check on your body mass – with arthritis you really want to avoid any extra weight.
Types of exercise
Ad. Article continues below.
The type of exercise will depend on both your individual capacity and interest. Think about exercises that can help you in three important areas:
Strength (building muscle to provide joint stability)
Cardiovascular fitness (to improve the condition of your heart, lungs and circulation)
Mobility (to improve or maintain a joint's range of motion)
The following exercise types are often considered beneficial for people living with arthritis:
Swimming
Water exercise classes (hydrotherapy)
Tai chi
Low-impact aerobics
Walking
Yoga
Equipment pilates
Cycling (stationary)
Motivation
Ad. Article continues below.
It can be hard for someone already in pain to find the motivation to move. But just think of how good you feel after a session of exercise – those serotonins will help you love it! Watch your fitness level improve over time and be proud of what you have achieved. It's all about doing as best as you can – you don't have to run marathons. On bad days, just a short walk around the block can already be helpful. Mix up a few different types of exercise – they all bring different benefits and this can help the boredom.
Time
Let's not do the 'I don't have time for exercise'. We're all busy people these days. Exercise is crucial for good health so you HAVE to make it a priority in your life. Block out 45 minutes here and there in your diary and ask others to support you in your quest for fitness (loved ones, co-workers, friends). Even better, join a regular class or find a fitness buddy so you can plan time for exercise together.
Where to start
If you are unsure about which exercise is right for you, it's important to check with your doctor or physiotherapist.
Tell us what types of exercise you are doing to stay fit and share your exercise 'hacks' to fit it into your day in the comments below.