Everything you need to know about this popular activity tracker...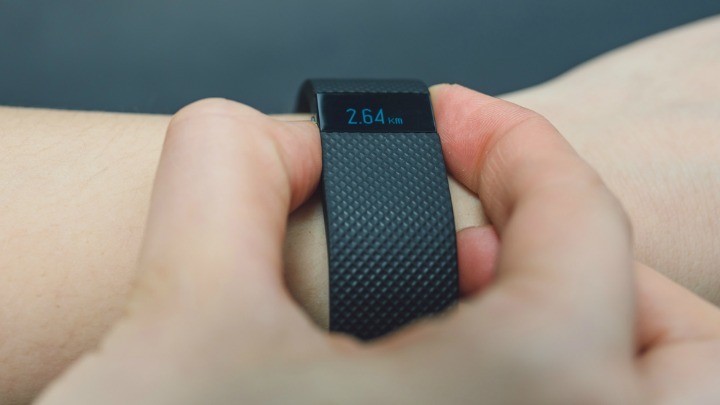 A Fitbit is the latest sporting accessory to take the world by storm. You have probably heard all about activity trackers, and wondered what on earth are they? Well here is a little overview of activity trackers actually do, with some tips and suggestions to help decide if they are right for you.
What is a Fitbit?
Fitbit's are a wearable activity tracker that monitors your movement throughout the day giving you "the freedom to get fit your way" according to their website.
"Everyone's approach to fitness is different. One-sized-fits-all doesn't always fit you. That's why we created a family of products that work seamlessly with each other. your budget, your favourite apps and your goals."
So what does that actually mean? Well, basically they are like the old-school pedometer that tracks your steps, but they can also do so much more! They are charged through USB and sync with your computer and mobile phone to relay data like, your heart rate, sleeping patterns, calories burned etc.
Ad. Article continues below.
The main reason they are used is to track the amount of steps you take throughout the day and encourage you to be more active, through preset alarms and competition with friends and family who also have them.
There are many different models of Fitbit that all offer different features, but the basic models will be enough to get you going.
The most popular models:
All day activity tracking (steps, distance walked, calories burned, active minutes)
Progress display (LED lights on the band light up as you get closer to reaching your daily goals)
Sleep monitor and silent vibrating alarm
Water-resistant wrist band
5 day battery life
Wireless syncing (with your computer or smartphone)
Ad. Article continues below.
This is the most popular (and budget friendly) model that you can wear on your wrist like a watch.
All-Day activity tracking (steps, distance, calories, active minutes)
Display (daily stats, time of day and exercise mode displays instead of the lights on the first model)
Caller ID (syncs with your smart phone and see incoming notifications when your phone is close)
Longer battery life (7-10days)
Automatic sleep and alarms (automatically monitors sleep and has silent alarms)
Wireless syncing (automatically syncs with your phone and computer)
All-day activity (steps, distance walked, calories burned, active minutes)
GPS tracking (so you can see distance, pace, elevation climbed and review routes)
PurePulse heart rate tracking (continuous and automatic readings)
7+ day battery life
Call and text notifications as well as being able to control songs from your mobile phone
Automatic sleep monitoring and silent alarms
Wireless syncing
Water resistant
Touch display screen
Ad. Article continues below.
Here are some important features you should know about:
Setting up:
Make sure you let Fitbit know what wrist you are wearing your Fitbit on. Extra movement from your dominant hand (like writing or even texting) can alter the readings on your chart, When you set-up your new Fitbit you can select 'dominant hand' so that it can account for these movements.
Fitbit bases stride length on your height and gender, so you will need to put in the most accurate detail you can to make sure it is counting your steps correctly.
Competition is a great motivator! So if you have friends or family with a Fitbit make sure you link up with them via the app so you can track their progress. The app also lets you set challenges for yourself and friends to push you even further.
Heart-rate monitor:
If you are just trying to be healthier and more in-tune with your body the Fitbit Charger HR offers an optical heart rate monitor. This sits against your skin and uses LED light to record your heart rate.
Ad. Article continues below.
Sleep tracking:
As we age getting a good night sleep can be difficult, being interrupted by medication and changes in hormone levels. Fitbit can help you track your sleeping patterns and this may even help you work out how to get more sleep or be a valuable tool to show your doctor if you are concerned about your lack of sleep. Just remember for the more basic models you need to select sleep mode before you nod off otherwise it won't know you are sleeping. Also set the feature to 'sensitive' mode instead of 'normal' so it will detect and record all the small movements you make during the night.
Silent alarm:
This feature is probably the one that excites me the most. If you are (like me) the type that accidentally turns off alarms during your sleep, or just dislikes being jolted awake by loud noises, or maybe you don't want to disrupt your partners sleep if you need to be up earlier, this is a feature you will love. You can set an alarm on the Fitbit and in the morning it will start to vibrate against your wrist until you wake. You can also set alarms for reminders to go for a walk, drink more water, take medication etc.
Log food:
Ad. Article continues below.
Keeping a log of your food is a great way to be accountable for what you eat and encourage healthier habits. It can also be a great tool if you are noticing differences in your body that you think may be attributed to some food intolerances. The app allows you to log what you eat and when you eat it.
At the end of the day the Fitbit may not be for everyone. But if you are trying to live a healthier, more active lifestyle some of these features may really help.
Do you have a Fitbit or activity tracker? What do use yours for?