Grant Denyer's wife faces surgery for debilitating condition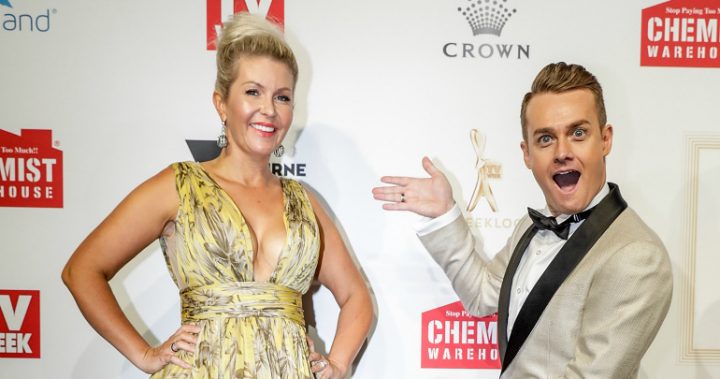 Chezzi Denyer, wife of popular Family Feud host Grant Denyer, has announced that she'll undergo surgery this week to treat severe her migraines.
The 38-year old mother of two wrote on her blog that she was "really struggling to just get through my everyday life."
"Some days I have such severe vertigo that I nearly fall over if I get up too quickly or if I move my head in a certain way," Denyer wrote. "But I can deal with the vertigo… What really troubles me is the pounding foggy brain sensation I am suffering from most days."
Last month, the usually self-declared fit and bubbly Denyer said she went to hospital with a severe pain, unlike anything she had ever experienced, in the left side of her head.
"Within a week, the migraines had become so bad; I was unable to really see and had to lie in a dark room with my eyes closed to try to get some relief. I was on three different types of antibiotics and again, on heavy steroids but nothing seemed to be working," Denyer shared.
Ad. Article continues below.
Following a CT scan and MRI on her birthday, Denyer's surgeon told her that her sinuses, which had caused her years of grief, had flared up again, and that she needed more surgery to try to relieve the pain.
For now, Denyer is filling her days with "acupuncture and various treatments to try keep the migraines under control until surgery."
According to Headache Australia, a division of the Brain Foundation, about 15 per cent of the population suffer from migraine at some point in their lives.
The disease disproportionately affects women, most frequently during their reproductive years, and then decreases quite substantially after about 70 years of age.
However, the unlucky women who are still suffering from migraine over the age of 70, may experience them more frequently, though accompanying symptoms such as nausea and photophobia are usually less pronounced, noted Headache Australia.
Ad. Article continues below.
Denyer said that her husband had been her tower of strength and that she had been "depending on him so much lately".
She also sent out a heartfelt message: "to anyone who is suffering from an illness or debilitating condition, my heart absolutely goes out to you every single day. I realise I am one of the lucky ones and that I will soon have surgery to restore some balance and normality to my life, hopefully, while others may not be facing such a certain future. You are in my thoughts and my prayers. Stay strong."
Do you or someone you love suffer from migraines?