Dementia can strike earlier than you think. So what can we do?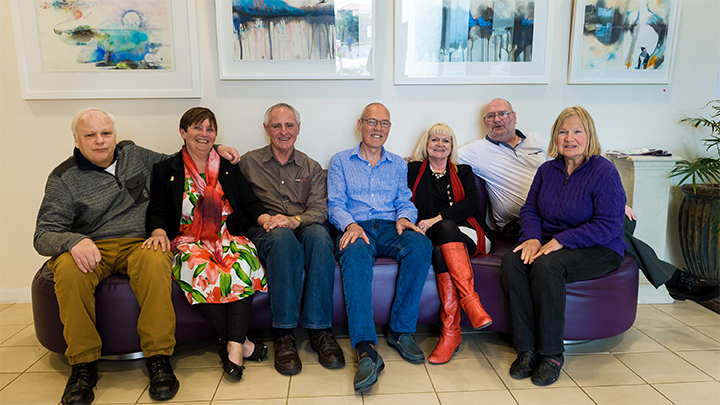 One in every 13 Australians diagnosed with dementia is aged under 65, and the numbers are increasing. Currently, more than 25,100 people are living with younger onset dementia, and there is a pressing need for specific, tailor-made services and programs to help improve the quality of their lives.
Not-for-profit organisation, the Brotherhood of St Laurence runs a support group for women and men with this condition, and coordinator Kylie Levett says this is a proven way of really helping those affected.
"Our members are at the early stage of the disease – slight memory loss and confusion," Kylie says. "And we wanted to run a program that has been designed by them for their needs because we believe it's a shared journey".
Women don't immediately identify that something is terribly wrong because the symptoms of younger onset dementia are similar to menopause, Kylie believes. And that means they often don't get help and support until quite late after diagnosis.
"At the beginning, we had two ladies who were quite advanced in their condition, but were referred to us because they were younger. It's confronting when you see someone you love so dearly who is only a young woman in an environment where there are many older people".
Ad. Article continues below.
You can make a difference this Christmas.
Click the link below to help improve the lives of those with dementia:


"Another lady in our group was a former nurse who had cared for people her entire life. She had been in a group for older people because there hadn't been anywhere for her to go. In that group, she had retreated to curling up silently in her chair, not communicating with anyone".
"But here, with people her own age, she became a different person. She would check to see if everyone was okay; she was dancing, she was shining – she was just glowing. She felt like she was back at work, helping people".
"Because our group's environment is built on support and connection with each other, the healing and the compassion and kindness shown to everyone is phenomenal".
Ad. Article continues below.
These personal stories can be devastating to hear, but Kylie says they inspire her. People tell her how hard and isolating it is not being able to work – that they've gone from being financially independent with thriving careers and fulfilling lives to being unemployed and coping with the disadvantages that comes from this.
"Our role is to be part of this journey after people are diagnosed and have to rediscover who they are. It's a life after diagnosis and it's about giving hope. That's what I found from this group.
The program has been evaluated by researchers and has shown that it helps members to maintain their routine and continue to engage in activities that interest them.
This is why the work that the Brotherhood of St Laurence does is so important -providing families with peace of mind.
But there aren't enough of these programs and there is a desperate need for more. This year, give back and support those people who are in need.
Ad. Article continues below.
Visit give.bsl.org.au to find out more about our Younger Onset Dementia Group or to donate to the cause.

Has dementia had an impact on your life? Share your story in the comments below.
This post was sponsored by the Brotherhood of St Laurence. It was written as we feel it delivers valuable insights into a subject important to the Starts at 60 community. For more information on how you can help those suffering from dementia, click here.