Cancer treatment could be cut from months to minutes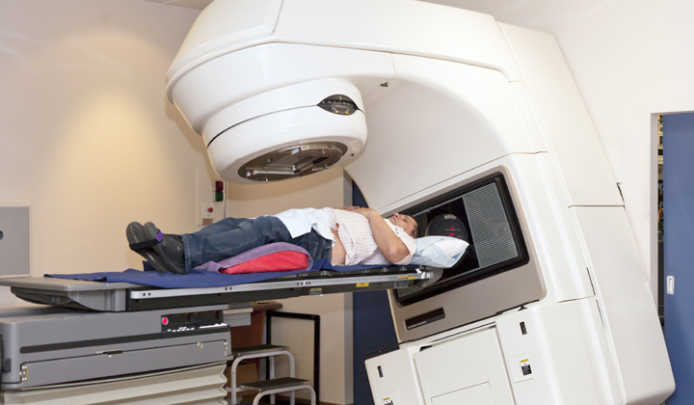 In some great science news this morning, a team of Melbourne doctors have just completed their first trial for a powerful new technique that could turn several weeks of radiation treatment into a single, ten-minute session.
Doctors from The Peter MacCallum Cancer Centre are treating patients with high-dose Stereotactic Ablative Body Radiation Therapy (SABR) over a six to eight week period but it's all about to change for these sufferers and so many across Australia (and perhaps the world) with a fantastic solution to reduce treatment time and deliver the dose needed to fight the cancer in one go.
The experts at the centre realised that by removing the laser's filter, the SABR treatment can be controlled by the doctor, delivering a "knock-out punch" of radiation to the tumour. Older patients or those who cannot lie for long periods will especially benefit, but it's a breakthrough for all sufferers who wish to get it over and done with quickly and effectively.
Currently, SABR treatment is for small secondary tumours that have spread or inoperable primary cancers, and is delivered over three to five sessions of 40-60 minutes each…an excruciating amount of time. Anyone who has had radiation therapy knows how ill you can feel afterwards and now, it could be a once-off trade-off to better health sooner.
Harold Sciberras, 80, was the first in Victoria to undergo the treatment yesterday. He has a small tumour in his lung and was out within 20 minutes. Of the treatment Harold said, "The location of the tumour makes it very difficult to operate or target with conventional radiation without affecting my healthy lung tissue, so this new technique has certainly come at the right time for me, and many others in my situation".
Ad. Article continues below.
"The best news is I will be back at home in Diggers Rest tonight, and I will only need to return to Peter Mac for follow-up appointments".
Watch the video below about the reduced treatment and tell us, how would this change a live you know?