Brittle, splitting, peeling nails: You can't streamline beauty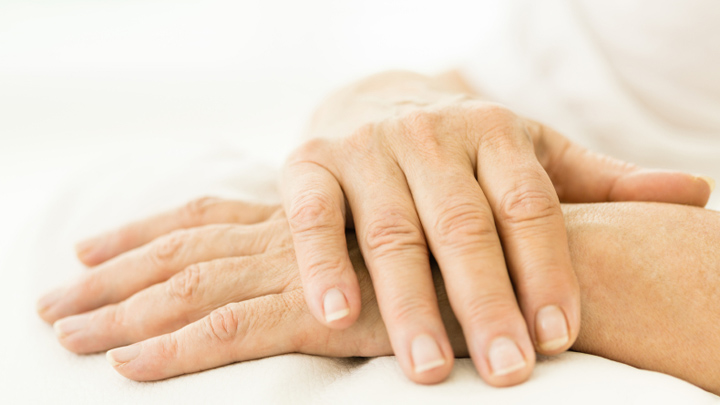 Dealing with brittle, splitting and peeling fingernails would have to be the classic example of why we can't streamline beauty.
The three keywords are:
Perseverance.
Perseverance.
Perseverance.
Ad. Article continues below.
Various gloves are about to become your fingernails new best friends.
Rubber gloves for washing dishes and wiping benches.
Disposable latex gloves for preparing veggies.
Gardening gloves for gardening.
Heavy duty gloves for handling logs of wood and for rough work.
Ad. Article continues below.
Leave the long, elegant nails to girls who have naturally strong nails and keep your nails short and cut straight across – a touch longer than the end of your finger.
Use sharp, curved nail scissors to cut the nails on your left hand if you are right handed and nail clippers (I find the larger toenail clippers best) for the right hand. Reverse this if you are left handed. Sharpness is important to achieve a nice clean edge, no raggedness.
Finish with a large fine emery board – not too much filing, you are still aiming for a smooth, even edge.
Using an emery board, smooth off any peeling down layers of fingernails. Your nail tips may be thin but do your best.
Push down cuticles with a metal cuticle tool and trim with a cuticle cutter.
Ad. Article continues below.
In my recent book "Health & Beauty Tips for Women Aged between 60 & 80", I suggest roughing up the nail surface with the emery board to help nail polish adhere, but if your nails are brittle, peeling and inclined to split miss this; you are trying to keep the nails compact and holding together as much as possible.
Revitanail Nail Strengthener – available from pharmacies and beauty counters will now become your fingernails equal best friend. it is a clear, heavy polish and the routine is:
Apply two coats of Revitanail on day one, then one coat every day for the next five days, building up the layers.
Remove Revitanail on the seventh day with regular nail polish remover and rest your nails overnight.
Repeat this process three times, making it a four week program.
Ad. Article continues below.
Take a break from Revitanail for a week or so and allow nails to rest and assess their improvement.
A second four week program of Revitanail may be necessary. Keep going and you will be astonished at how strong your nails have become.
Now that you have achieved strong, healthy nails it is time to show off by wearing them a little longer and using coloured nail polish. Gel nail polish is best because it is strong and non-chip; does not wear off and expose the fingernail tips. Four coats are used and provide a good thick layer of protection.
I have gel polish applied regularly by my manicurist, but you may like to buy a kit and do your own gel polish. For home use I recommend and have used CND Shellac www. cnd.com/products. Gel polish will last about a fortnight and your nails will be beautiful and trouble-free.
Choose a pale pink colour so that regrowth isn't so noticeable.
Ad. Article continues below.
You will need to trim and file your nails and tidy your cuticles during the fortnight.
You can paint over the gel polish with regular nail polish to change the colour and mask regrowth. Remove polish with regular non-acetone nail polish remover and your gel polish will be perfect underneath.
Remove gel polish yourself with pure acetone. Take off the top coat with a course file to help the acetone penetrate. Soak nails in acetone for 15 minutes, then use a scraper and course file to remove the gel polish.
Your nails may look a little stressed now so cut, file and tidy the nails and cuticles and rest from gel polish for a week or so, but feel free to use regular nail polish
You might like to try a skin, hair and nail supplement to help maintain nail strength, Biosource, Priceline's brand is the best value for money. It goes without saying that the pump action hand and nail cream at the kitchen sink and hand basins to use after every hand wash is a great help. Don't forget to use hand and nail cream lavishly at bedtime.
Ad. Article continues below.
When fingernail dramas occur below the fingertips, a break or knife cut, use a bandaid until there is enough growth to trim and tidy the damaged nail.
I persevered with the Revitanail routine for a few months, years ago and since have rarely used Revitanail at all. I use the coloured gel polish regularly and my nails stay in tip -top condition, look fabulous and fingernail maintenance is, at last quite streamlined.
Tell us, what are your nails like? How often do you tend to them?