Big show of love for newborn baby who could be a record breaker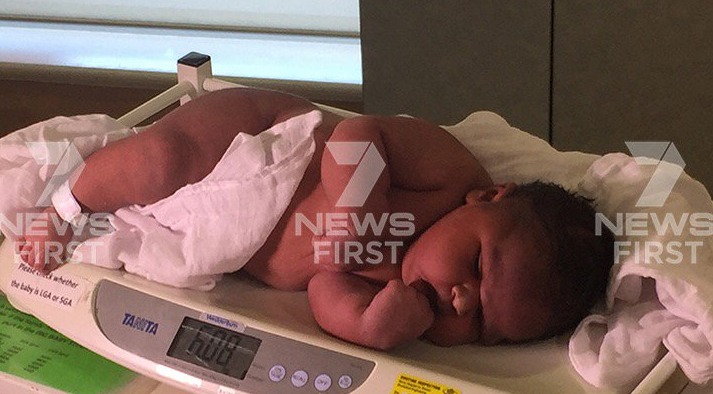 One Melbourne mum welcomed a big bundle of joy with week, with an emphasis on the big.
Tipping the scales at 13.5 pounds (6.06kg) not-so-little Brian Junior was born on Tuesday, a big addition for the family for Brian Liddle and Natashia Corrigan.
At 57cm in length he is double the size of the average newborn.
Brian's two older sisters weighed 8pd 4oz and 7pd 12oz so it was very much a surprise for mum Natasha.
Natashia took to social media thanking everyone for all their comments, cards and messages, saying she never dreamed they would get so much love for their big baby boy and family.
Ad. Article continues below.
To answer the question everyone wants to know; it was a natural birth assisted with gas.
"Ive always wanted a little fat baby and I've got a big one" she told 7 News.
While Brian Jr could possibly be the heaviest baby born in Victoria he is not the biggest born in Australia.
Ad. Article continues below.
In 2013 Oliver Stock was born in Rockhampton, Queensland weighing 14.14lbs (6.76kg).
Guinness World Records states the heaviest birth as being in the United States on January 19, 1879.
A boy was born to Anna Bates weighing 22lb (9.98kg) and measuring 71.12cm in length.
Sadly the baby only lived for 11 hours.
Big or small, how big were your babies?