Students sing 'Amazing Grace' to teacher diagnosed with cancer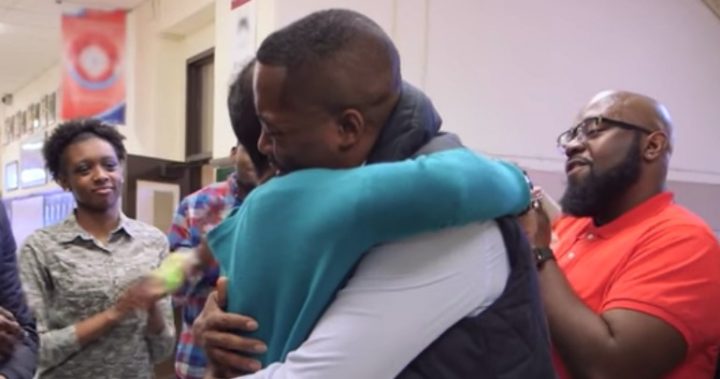 Teachers can have a huge impact on our lives; their encouragement and support in our early years can put us on the right track and inspire us to work hard. Most people can remember their favourite teacher well and remember the knowledge they imparted during those formative years.
One teacher who had a particularly powerful impact on her students was Gabrielyn Watson, a music teacher from Chicago, who was forced to take time off work after being diagnosed with cancer. When past and present music students learned she had survived her cancer, they decided to join forces to show her how much they appreciated everything she had taught them.
In a heartwarming video shared on Youtube, the group surprised Watson with a beautiful a cappella version of 'Amazing Grace'.
The students practiced their performance for weeks and enticed Watson to Morgan Park High School in Chicago with a letter from the school board requesting an interview. The unsuspecting music teacher is seen walking down the hallway in the video as the students excitedly chatter at her arrival. Suddenly her former students begin to pop out from behind doorways serenading her with song.
Overcome with emotion, Watson instantly bursts into tears, both crying and laughing. She had taken seven months off teaching to battle multiple myeloma, a cancer that affects the bones.  
Ad. Article continues below.
The clip was originally shared by Kleenex as part of a film series, with interviews from some of the ex-students including Peter Frank, a finalist from season 10 of American Idol, who now works as an entertainer in Los Angeles. "I realised that I never really had a chance to tell her exactly how influential she was to my life," he says in the clip.
In the video, Frank walks up to his teacher after the performance, embraces her and becomes emotional as he says, "Because of you, I'm everything I am today, and I really thank you." 
Watson, who is now in remission, was overwhelmed at the heartfelt gesture, "I never thought I'd see them all together like that," she said in the video. "It's just great to feel loved, and that what you do matters."
Did the performance bring a tear to your eye? Do you remember your favourite teacher at school? 
Ad. Article continues below.
With Facebook removing news sites from your feeds we ask that you sign up for Starts at 60's emailers here. And to keep us on your wall, join some of our new Facebook groups and clubs:

News Junkies Club – Australia
News Junkies Club – USA 

See news on the change and links to all our other clubs and groups here.