Julia Louis-Dreyfus celebrates last day of chemo with devoted sons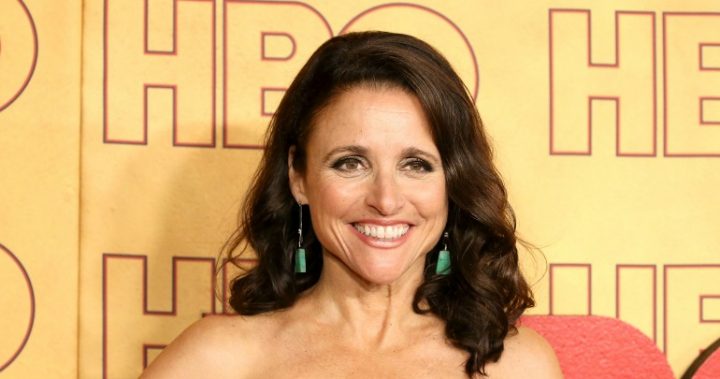 Julia Louis-Dreyfus' sons have been with her every step of the way as she battles cancer.
And they celebrated in the perfect way as she completed her final day of chemotherapy on Friday. The Veep star was diagnosed with breast cancer last September, and has remained positive and inspiring to her fans throughout.
Sharing the happy news she had completed her last round of chemo on Instagram, the 56-year-old allowed her sons to do the talking with a funny video. Henry, 25, and Charlie, 20, recorded their own lip-syncing rendition of Michael Jackson's hit 'Beat It'.
Beginning on a black screen, the video spells out the words: "Mom's Last Chemo Day!!! BEAT IT!!! Love, Henry and Charlie." The pair are Julia's two sons with her comedian husband Brad Hall.
Read more: Julia Louis-Dreyfus diagnosed with breast cancer
Ad. Article continues below.
It's not the first time the family have clubbed together in the last few months with some much-needed humour. After she completed her second round of chemo in October, the actress posted a photo of her with a drawn on moustache.
Ad. Article continues below.
Louis-Dreyfus joked at the time: "Chemo #2: finito. We are NOT f***** around here. 'I've got the eye of the tiger. The Fighter dancing through the fire cuz I am a champion and you're going to hear me ROAR [sic]."
An important message about how you see Starts at 60 on Facebook
She initially shared the news of her diagnosis on social media, writing: "1 in 8 women get breast cancer. Today, I am the one… The good news is that I have the most glorious group of supportive and caring family and friends, and fantastic insurance through my union. The bad news is that not all women are so lucky, so let's fight all cancers and make universal health care a reality."
Read more: Julia Louis-Dreyfus gives update after breast cancer diagnosis
It comes after the actress made history at last year's Emmy Awards after winning 'Outstanding Lead Actress in a Comedy Series' for the sixth time in a row for Veep.
Ad. Article continues below.
"I don't know what to say about it other than I'm numb," she told reporters backstage, according to Entertainment Weekly. "I can't believe it. I adore Cloris Leachman. All I think about is her in Young Frankenstein going, 'He was my boyfriend.' I'm just incredibly honoured and amazed this has happened to me. It's all very baffling and a s**t ton of good luck."
You can now find all our latest news in our News Junkies Club – Australia here.
Have you suffered with breast cancer, or know anyone who currently is?