Grey's Anatomy star Kate Walsh reveals brain tumour diagnosis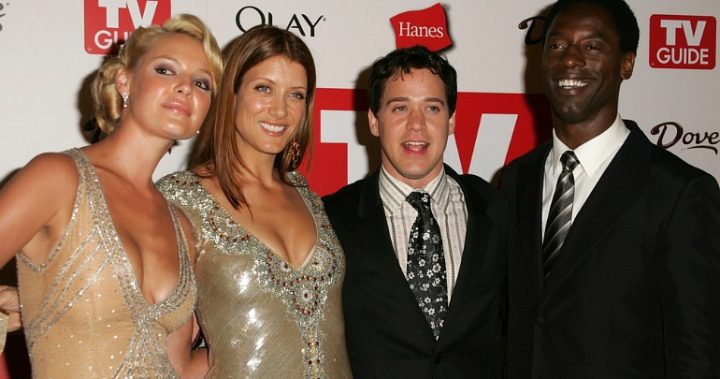 Grey's Anatomy star Kate Walsh has revealed she was diagnosed with a brain tumour two years ago and has undergone surgery to have it removed.
Walsh told Cosmopolitan doctors only discovered the benign tumour, which was the size of a lemon, because she insisted on an MRI after months of noticing strange changes to her body.
"When I was driving, I started swerving into the right lane," she told the magazine.
"The exhaustion got to the point where I could drink five cups of coffee and still not feel awake or clear.
"And then around April, I started having more cognitive difficulties. It felt like aphasia, but it wasn't just not being able to find words; I would lose my train of thought, I wasn't able to finish sentences, and that was when I got really alarmed."
Ad. Article continues below.
She said she brushed off the strange symptoms as menopause at first, but eventually decided to trust her instincts that something was wrong and book an appointment with a neurologist.
"I just had an instinct," she said.
"I had to really advocate, because they don't hand out MRIs so easily, but I got an MRI and thank God I did, because it turned out I had a very sizable brain tumour in my left frontal lobe. And three days later I was in surgery having it removed."
Ad. Article continues below.
Walsh only made the revelation public for the first time because she's joined a new campaign with other actors who played TV doctors to encourage young people to get regular check ups at their GP.
She took nine months off work before returning to film comedy Girls Trip and the controversial teen drama 13 Reasons Why.
Walsh starred in Grey's Anatomy as Dr Addison Montgomery (McDreamy's ex-wife) from 2005 to 2012.
Her character was so popular she was given a spinoff show called Private Practice in 2007, in which she played the lead role until 2013.
Do you know anyone who's been through something similar? Are you a fan of Grey's Anatomy?