A radiant Fran Drescher shares her tips for cancer recovery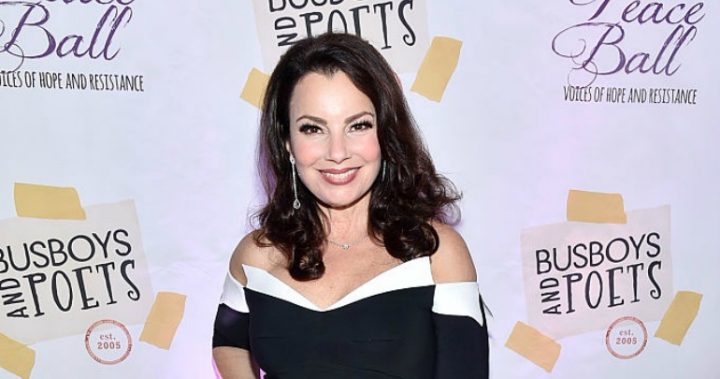 She has one of the most iconic voices in television history and it's hard to believe that it's been over 40 years since Fran Drescher first burst onto our screens in Saturday Night Fever.
The star of The Nanny recently appeared on American talk show Home and Family to discuss her latest projects, but we couldn't help but notice a certain glow about the actress.
Looking radiant with only daytime make-up on, Fran wore a figure-hugging blue dress for the appearance. It may not have been as extravagant as some of the crazy outfits she wore on The Nanny in the 90s, but she still made it work.
It's been a big year for Fran so far. Not only did she celebrate her 60th birthday last month, but it also marks 17 years since she beat uterine cancer.
Ad. Article continues below.
The star was diagnosed with the disease back in 2000 but has been cancer-free since undergoing a hysterectomy shortly after she was diagnosed.
The 60-year-old has been vocal about her ordeal, explaining that she had been experiencing symptoms for two years and that she was misdiagnosed by eight doctors before discovering she had cancer.
In an interview with Channel 10's Studio 10 earlier this year, Fran even linked her cancer to a traumatic experience she'd been through earlier in life.
The actress was raped and held at gunpoint and explained that never dealt with her issues: "I really didn't deal with my pain for many, many, many years – with the rape. So, when you don't do that… I mean, I ended up with a cancer.
Ad. Article continues below.
"So, it kind of end up being very poetic in where the body decides to break down and create disease."
Read more: The Nanny star Fran Drescher reveals hidden rape trauma
Fran went on to launch her own cancer foundation in 2007, Cancer Schmancer, which focuses heavily at shifting the focus from finding a cancer cure to early detection and prevention.
She also wrote a book of the same name in hopes of reaching as many people as possible and regularly speaks about cancer at red carpet events.
Ad. Article continues below.
At a recent Jump Jive Thrive cancer event in Los Angeles, the celebrity encouraged people of all ages to take control of their bodies: "It's your life, so take control of it – don't be intimidated by your doctor, always get second and third opinions," she told Extra.
She also advised people to be careful of what they put in their bodies, saying: "Dial it back. Everything old is new again. Don't buy anything, eat anything that didn't [or] couldn't have grown in your grandma's garden."
Do you think early detection is the key to curing cancer?