The results found that the number of frail people in some Australian suburbs are projected to double. In Sydney, hotspots for frailty include Padstow, Chatswood, Bexley and Hurstville.
In Melbourne, the suburbs with the most frail people included Epping, Mulgrave and Keilor East, while Monash, Florey and Rivett are Canberra's hotspots.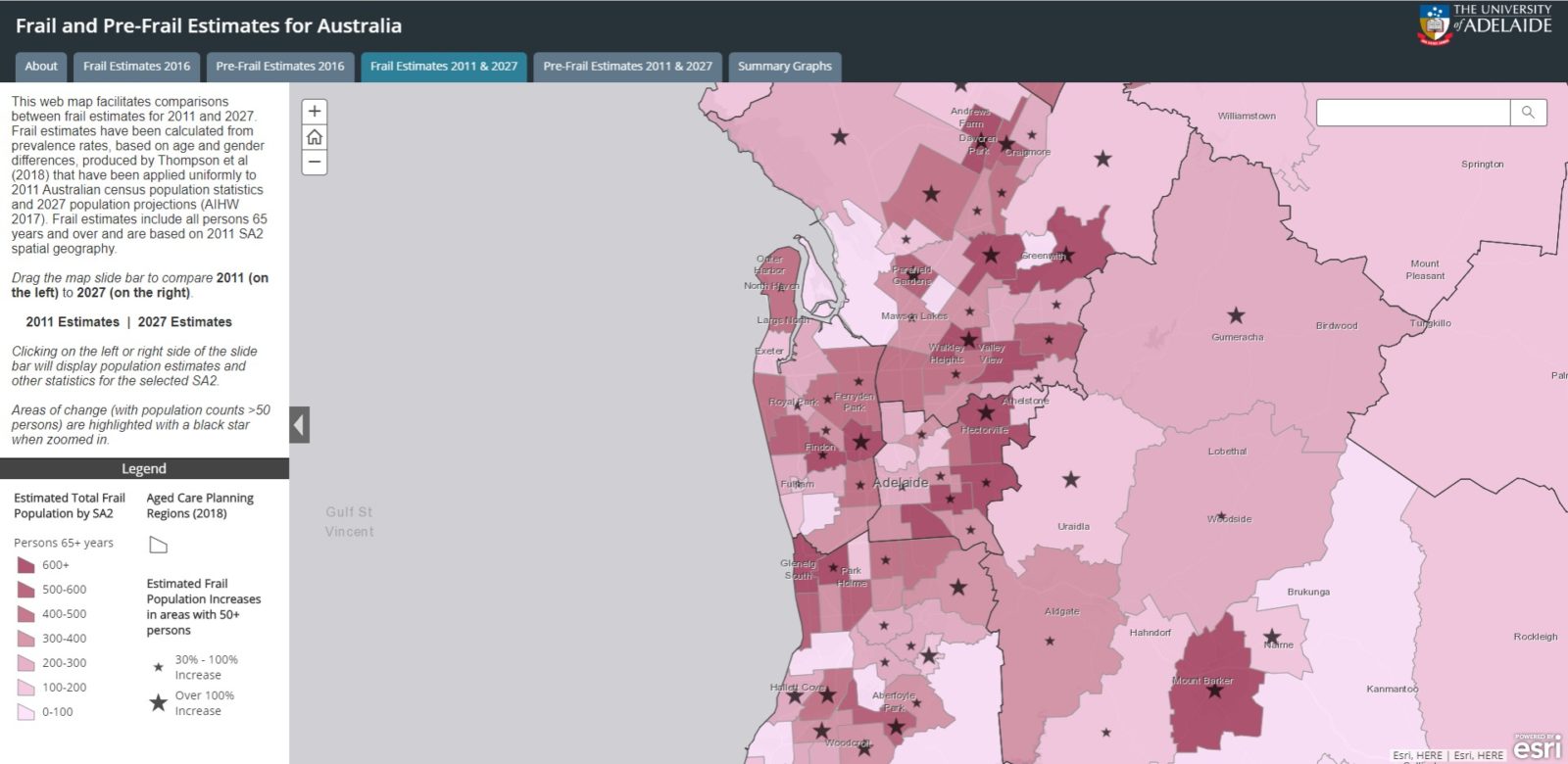 Similarly, Brisbane's Eagleby, Raceview and Birkdale, Hobart's Risdon Vale, Brighton and South Hobart and Adelaide's Hallett Cove, Happy Valley, Mount Barker and Golden Grove are also areas of concern. In Perth, the frailty was most common in Armadale, Canning Vale, Bassendean and Kingsley, while Darwin's hotspots were found to be Fannie Bay, Rapid Creek and Wanguri.
There are 3.6 million over-65s in Australia and experts predict that more than 415,000 of them are frail and 1.7 million are pre-frail. Alarmingly, these numbers are expected to increase dramatically, so much so that more than 600,000 will be frail by 2027 and pre-fail numbers will increase to 2.2 million.
Researchers also believe the increase is going to be fastest in regional, remote and outer metropolitan areas. Taylor explained: "Australia is the first country to have an interactive frailty map and that shows where frail and pre-frail people live and is in a unique position to address this growing issue."
The information will be used to inform resource distribution and provision of health services to areas that are likely to have higher levels of needs. The map can be used by anyone in the community and can be used to help people in need find physiotherapists, occupational therapists, social workers, aged care assessment services and community services to help alleviate the effects of ageing.
"This is a step forward in the way frailty can be identified, leading to more targeted treatment and prevention and ultimately a reduction in frailty prevalence. It also raises awareness of the projected rapid growth of frailty and the need to act to prevent and better manage frailty," Taylor said. "Reducing frailty will improve the quality of life of many older Australians, enabling them to remain independent and living for longer in their own homes, while also reducing the higher utilisation of health services, a characteristic of frailty."
It's always important to chat with a GP or health professional about the best ways to reduce the risk of frailty and how to stay as safe as possible. The map can be accessed on the University of Adelaide website.
IMPORTANT LEGAL INFO This article is of a general nature and FYI only, because it doesn't take into account your personal health requirements or existing medical conditions. That means it's not personalised health advice and shouldn't be relied upon as if it is. Before making a health-related decision, you should work out if the info is appropriate for your situation and get professional medical advice.