Australia's biggest hearing check is coming to you and it's free
Sponsored Content
Health
9 months ago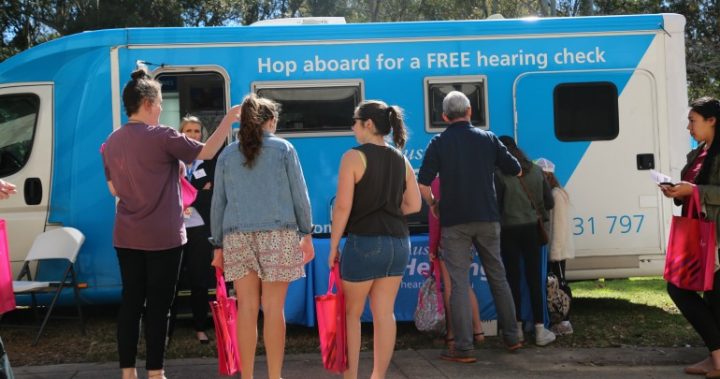 It's no secret that our health becomes a top priority as we age.
But there's one health check many of us put off for years: our hearing. Most Australians delay getting their hearing checked for up to seven years after first noticing signs of hearing loss, when really it should be done every one to two years.
In a bid to combat this apathy, Australian Hearing is once again holding its Big Aussie Hearing Check for Hearing Awareness Week, which runs from August 20-26. The organisation is rolling out free hearing check-points at nearly 500 locations around the country.
Thousands of people are expected to take part, with pop-up kiosks, the 12 iconic Australian Hearing buses, and the organisation's hearing centres around the country open to everyone.
With more older Australians roaming the country than ever before, hearing has become a vital health issue for millions of Baby Boomers.
Aside from affecting our ability to hear others properly, hearing loss can impact our social life, our relationships and our mental health.
Australian Hearing senior audiologist Janette Thorburn says being able to hear clearly can help us stay social and active for longer.
"Maintaining good hearing is about communication, which boosts confidence in social situations and allows people to fully participate in fitness and other activities they have always done – or to try something new," she said.
One in six Australians is affected by hearing loss, but many fail to act because of ongoing stigma around the issue.
While most people are more than happy to get their eyes checked when they notice changes in their vision, some fear they will be told they need a hearing aid if they show signs of hearing loss.
However, unless the hearing loss is quite severe, this is rarely the case.
"A hearing check is one part of overall health monitoring and if a hearing loss is detected, we can advise next steps, suitable technology, and provide ongoing support," Thorburn said.
Often your audiologist will simply encourage you to attend annual hearing checks so they can monitor any changes over the years. If your hearing does require an extra boost, amplifying devices, such as the XTM, may be recommended to give you the sound boost you need.
Australian Hearing is encouraging all over-60s to be proactive about this important health issue and head to their nearest hearing check point during Hearing Awareness Week for their free check-up.
You can find your nearest Australian Hearing check-point here.
When was your last hearing check? How has your hearing changed over the years?