Arthritis drug could relieve agonising back pain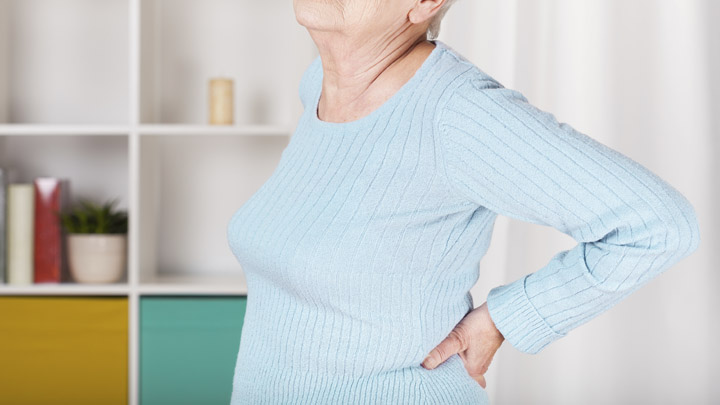 So many of us suffer from debilitating sciatica (slipped disc) and now there might finally be some relief.
If you have this awful back pain, you'll know just how difficult it is to banish the pain – there isn't really anything you can do. But doctors are now trialling the use of arthritis drug adalimumab in sciatica sufferers with great success.
The drug numbs the pain of the inflammation, and may also get rid of the pain completely.
Sciatica is categorised as the sharp, shooting pain that radiates down the back and to the feet. It's a consequence of slipped discs that press on nerves and inflame the surrounding areas.
At present, sciatica can only be treated with painkillers, rest and physiotherapy – or in some severe cases, surgery. Adalimumab has an antibody compound that has been found to target a specific bacteria called tumour necrosis factor alpha (TNF). TNF makes the immune system overreact and attack healthy cells instead of protect them.
Ad. Article continues below.
During a study at the Royal Adelaide Hospital, 49 sciatica patients received the adalimumab and half had a 100 per cent reduction in leg pain.
More trials have been rolled out across the UK, meaning there is hope for those who suffer from this chronic pain.
Jane Tadman, of Arthritis Research UK, told The Daily Mail: 'This treatment has transformed the treatment of inflammatory arthritis worldwide…It's not a cure, but for those people in whom it does work, the results can be dramatic".
But why does sciatica happen in the first place? New research from the Finnish Institute of Occupational Health has linked obesity with an increased risk of developing a slipped disc – overweight people were at 23 per cent greatest risk of lower back pain and 12 per cent the risk of sciatica.
With more trials, we could soon been treated with the drug meaning no more pain and a better quality of life.
Do you or have you ever suffered from sciatica? What did you do? How was it treated? Tell us below.