Are you guilty of this? The daily habit that could be preventing you from losing weight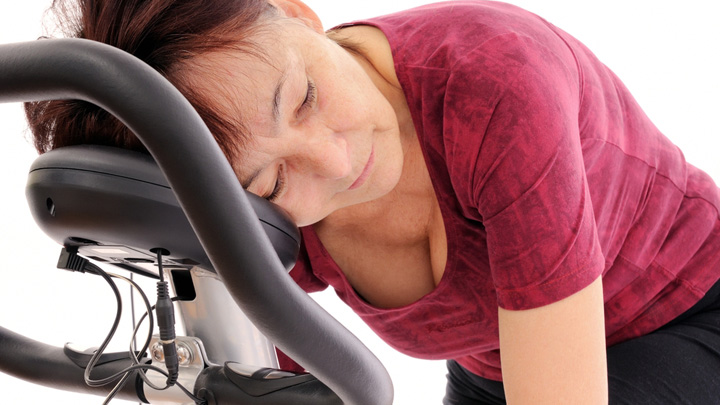 Only 47 per cent of Australians are getting the recommended amount of sleep each night, and now surprising new research from Weight Watchers has linked sleep deprivation to weight problems.
The research has shown that whilst humans need around 7 to 9 hours of sleep, people who get less than this daily requirement are more likely to battle with their waistlines.
When surveyed, over one third of Aussies agreed that tiredness leads to making unhealthy food choices. It's just too tempting to order takeaways when you're already sleep deprived, compared to preparing a balanced home-cooked meal.
Sleep deprivation also encourages people to skip their daily exercise routines, with 1 in 4 Australians preferring to hit snooze on their alarm clock. In fact, being "busy and tired" rates amongst the top three barriers which prevent people surveyed from exercising.
Unfortunately, having no exercise and little sleep forms a double-edge sword. Some people surveyed reported they were more likely to fight with their partner when feeling tired. Whilst 35% of Aussies say the suffer from mood swings, thanks to a lack of sleep and unhealthy lifestyle choices.
Ad. Article continues below.
For those Australians still at work, 43 per cent reported being less productive when they're feeling tired. Indeed, many studies have also proven that a good night's sleep coupled with regular exercise will improve your focus, energy and productivity.
Weight Watchers has pointed Australians who don't get enough rest towards guidelines and advice from the National Sleep Foundation. These tips will help you feel rejuvenated, along with preparing you to eat healthily and exercise regularly:
Develop a sleep schedule, and stick to it. The same bedtime and waking time will help to regulate your body clock.
Practice a relaxing bedtime ritual. Take a warm bath, burn a candle or read a pleasant novel.
Avoid bright lights, especially smartphones and computers, just before bed. These can disrupt your circadian rhythm.
Avoid napping throughout the day, so you feel ready for rest by nighttime.
Exercise daily. Exercise boosts your need for sleep, and sleep encourages your exercise routine. It's all cyclical.
Avoid alcohol, cigarettes and heavy dinners. These items can disrupt your digestive systems, which make sleeping more difficult.
Do you find it difficult to sleep? Does sleep deprivation wreak havoc on your nutrition and exercise habits?