Ambos in shock at angry note left by neighbour for parking in drive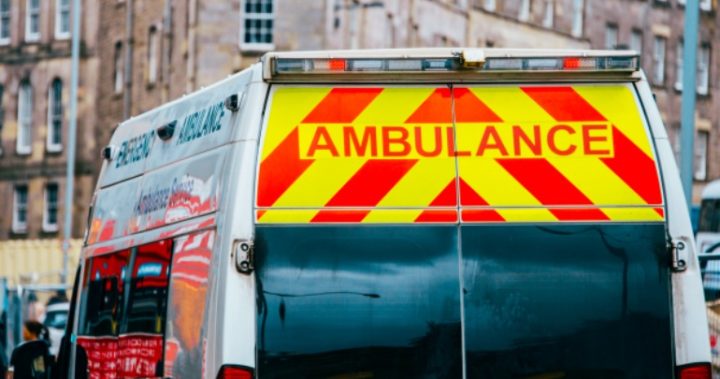 Whether you are young or old, an ambulance worker's unique skill set can often times be the difference between life and death. Ambulance workers save thousands of people all over the world every year; transporting them to the hospital and treating them on the way. One angry homeowner in the UK, however, was more focussed on the inconvenience of having an emergency vehicle outside their property than saving a life.
Members of the West Midlands Ambulance Service in the UK were left upset and angered after finding an abusive note on their vehicle telling them they had no right to be parked on the street as they responded to an emergency call.
The angry note read "If this van is for anyone but Number 14 then you have no right to be parked here. I couldn't give a shit if the whole street collapsed. Now move your van from outside my house."
Ambulance workers at the scene took to Twitter to show their disgust, posting up pictures of the note stating that they were "very angry to see yet again people getting grief for doing their job." They added that they "don't block the road for something to do".
Very angry to see yet again people getting grief for doing their job. We don't block the road for something to do ???????? pic.twitter.com/6fFURlNabs

— Mike Duggan (WMAS) (@wmasmikeduggan) February 18, 2018
Ad. Article continues below.
So upset to be sent this by one of our crews this morning! Along with this note left on their ???? they received a load of verbal abuse!????????@OFFICIALWMAS @StaffsPolice pic.twitter.com/c4UYdcjv86

— Katie Tudor (@wmaskatietudor) February 18, 2018
On top of having the angry note left on their vehicle the crew also endured verbal abuse from the unfeeling resident. The local police are currently speaking to the ambulance workers involved to obtain the full details of the interaction.
Ad. Article continues below.
A member of the Staffordshire Police department tweeted in support of the workers, writing, "It's important that those working to save lives feel safe in the course of their duty. I'm sure that's the view of 99.99% of our population."
The tweets about the incident have gone viral with many users showering the West Midlands Ambulance Service with words of support while expressing their anger at the resident's selfish attitude.
A fellow emergency service worker wrote, "This is a disgrace, do people not realise we emergency service workers need to respond and park accordingly, the last thing we think about is "am I blocking somebody's drive" the clue is in the title & we deserve a little respect!"
Another wrote in support of the ambulance workers, "Thank you for everything you do to save lives every single day, we love our paramedics!! "
Many also shared stories of when emergency service members had blocked their driveways with one user recalling, "Exactly, a few years ago on one of the hottest days of the year there was a big accident near to where I live, the emergency services were there for hours in the heat, so I kept them supplied with ice cold orange squash, a simple thing for me to do and they were all very grateful."
Ad. Article continues below.
This incident is really hit home for the West Midlands Ambulance Service after a similar incident occurred last year when another neighbour left an angry note on an ambulance telling paramedics to move. The message read, "You may be saving lives, but don't park your van in a stupid place and block my drive."
The patient eventually died in hospital and after the message went viral, the neighbour apologised for the incident saying he was "deeply ashamed" by his actions and that he snapped on finding he was blocked by the ambulance because he had to get to an appointment.
In Queensland alone, there were 221 incidents of violence against ambulance officers in 2016 as compared with 202 in 2011. Across all states and territories within Australia these incidents are on the rise.
The rise of these incidents has made members of the public question: Are people losing their goodwill? Many remember there was a time when you would help out your neighbours with things both big a small. Swapping recipes, borrowing ingredients or asking for a hand when you were completing some DIY work were all things that most neighbours were happy to do.
Many argue that hospital workers were also shown more respect and that now Generation Xer's and Millennial's are too self-involved to care about what is happening around them; only caring about "Me, Me, Me".
Ad. Article continues below.
What do you think? Do you think the new generation is less caring than the older generation or do you think that the modern technologies have made it easier to report on instances of unkindness?
Do you think today's generation is too self-focussed? Do you use the ambulance service often?
Read More: Facebook changes are coming – what it means for you, and for Starts at 60
With Facebook removing news sites from your feeds we ask that you sign up for Starts at 60's emailers here. And to keep us on your wall, join some of our new Facebook groups and clubs:

News Junkies Club – Australia
News Junkies Club – USA 

See news on the change and links to all our other clubs and groups here.