Alan Jones spills the beans on Sam Armytage's love of a tipple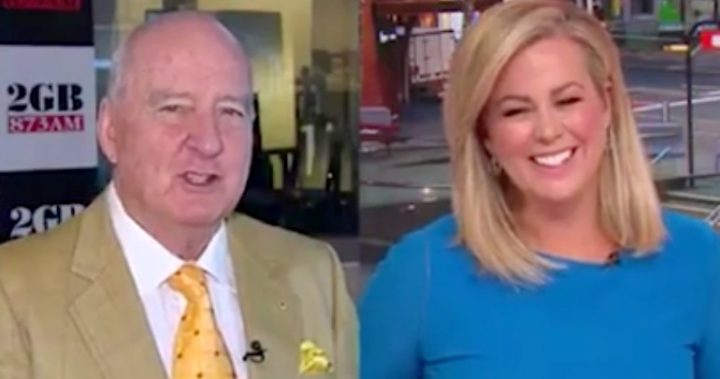 Alan Jones is known for being a shock jock, but today he certainly shocked one tv host.
While appearing on Sunrise today the 76-year-old talkback presenter, while talking about the Queen's reported alcohol choices, said it was nothing compared to Samantha Armytage.
According to some reports the Queen has been labeled a binge drinker. It is said she has the the equivalent of four serves of alcohol in a day, with a pre-lunch Gin and Dubonett, a wine with lunch and a Dry Martini and champers in the evenings.
The Queen knocks back FOUR alcoholic drinks a day, according to the Royal Menu. This makes her a 'binge-drinker' by Government standards. pic.twitter.com/02sSw6iuKY

— Sunrise (@sunriseon7) August 1, 2017
Ad. Article continues below.
"Sam, that's light on compared to the last time you and I had dinner," Alan Jones said, while talking on the panel with Sam.
"Sam, you started with the gin and it was fairly straight with not much tonic water at all, you had the white and the red and you topped it up with some champagne, come on."
Laughing, Sam told him to shush, reminding him they were meant to be talking about the royal tipple and not her own drinking habits.
"Poor woman," Sam said, "she's 92, it's obviously doing alright for her."
Sam, who'd just attended a wedding in Greece, had posted images of herself having a fun night out, looking glam and obviously having a lot of fun.
Ad. Article continues below.
Ad. Article continues below.
There was even one of her enjoying a sip of bubbles while on the holiday.
Do you think being labeled a binge drinker is a bit harsh?