A man shares his honest account of what it's like to live with Alzheimer's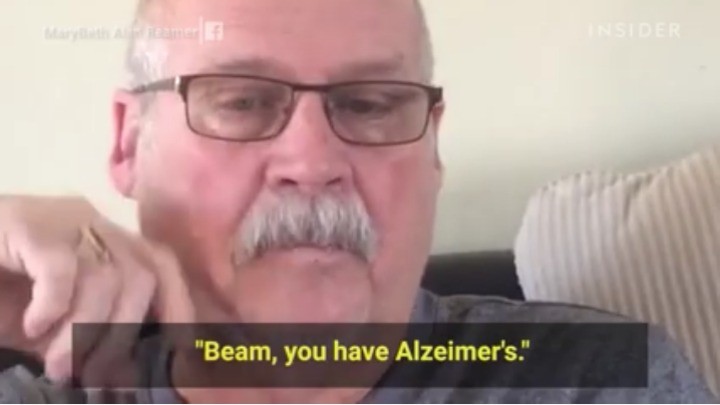 Alan Beamer is just like any other man.
He loves his family, his friends, and his community.
But recently, everything changed for Alan. He was diagnosed with Alzheimer's disease and the effect it has had on his life stretches much further than just his mind.
Alan's wife made a short video about him where she asked him questions about how he was feeling about his diagnosis.
In the video, Alan is seen with tears streaming down his face as he talks about how hard it has been to come to terms with the disease.
Ad. Article continues below.
He says he feels like he has lost much more than his mind; he feels as though his friends treat him differently now and that has made it all so much harder to deal with.
Alan's wife, who affectionately calls him Beam, can be heard asking him questions from behind the camera.
"What we would like you to know is what Alan feels… So that's where we're going to go," she begins.
"Beam, you have Alzheimer's. What do you want people to know about Alzheimer's?"
An emotional Alan wipes the tears from his face as he answers.
Ad. Article continues below.
"It's mean, mean, one of the meanest things I've ever seen in my life," he said.
Alan says he thinks his friends are avoiding him because they don't know how to act around him.
"I'm the same old person and I wish my friends could just come up and talk to me just like they did before.
"And you know, play around and joke around."
He says he wants people to know that he's having a hard time dealing with it too, and that he doesn't always know how to handle it either.
Ad. Article continues below.
Alan's wife says she thinks it's important for people to know she and Alan often feel the same way his friends do: uncomfortable and unsure about how to talk about it.
"I think one of the biggest things we want them to know is that we're not comfortable with it either, but we live it every day. We can't get away from it."
The video has been viewed over a million times and has touched thousands of people who were moved by Alan's honesty.
Those who have been through similar situations with Alzheimer's and a range of other diseases say they know just how he feels and that they hope this video will help their own friends and family understand what they are going through.
Other' who have watched their own husbands and wives or parents navigate their way through a serious illness say the video really hit home with them.
Ad. Article continues below.
It's hoped that Alan's story will help people to understand that those who are sick or diagnosed with a disease are still the same on the inside and just want to be treated the same way by their friends and family.
Take a look at Alan's story below and tell us how it makes you feel.
Alzheimer's has changed a lot of things about his life, but Beamer is still the same guy inside — and that's all he wants his friends to remember. (via INSIDER)

Posted by Upworthy Video on Monday, March 28, 2016
Can you relate to what Alan is saying? Have you or anyone you know been in a similar situation?