9 beauty mistakes you didn't know you were making (and how to fix them)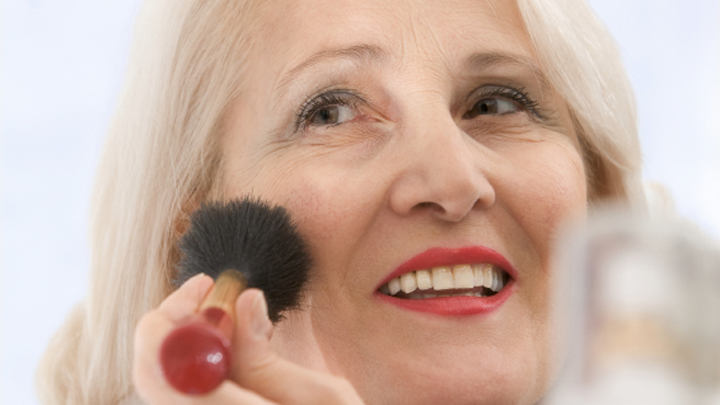 We all want to look our best, and when we're in our 60s, we tend to stick with routines we used in years past. But this may mean we have been making some beauty mistakes that were wrong – I know I'm guilty of a few!
Here's 9 of the most common beauty mistakes and how to fix them.
1. Applying makeup with your hands
The goal when you apply foundation is to look natural and it not be obvious you're wearing any. It's tempting to slather it on with your hands, but to ensure it's truly blended, you should use a foundation brush (and clean it regularly), sponge (teardrop-shaped ones are best) or a stippling brush. You'll notice the difference, not to mention you'll avoid spreading bacteria on your hands to your face.
Ad. Article continues below.
2. Wearing too much lipliner
Lipliner should be applied to stop lipstick from bleeding, and should be the same colour as your lipstick, however many women choose different colours to line and fill. Use a small liplining brush to apply your lipstick colour to your lip line, drawing within your lips and not around the edge. This can make the pencil bleed into the fine lines around your mouth.
3. Using too much powder
As we age, we should adapt our makeup routine. What you might not realise is that applying powder to wrinkles is a bit of a no-no and powder instead should just be applied to your T-zone – your forehead, nose and chin. Its purpose is to eliminate shine, not cover up.
Ad. Article continues below.
4. Applying makeup in bad lighting
I'm definitely guilty of this! Using the unnatural light from our bathroom mirror to apply makeup every morning might give you a rude shock when you go out in the daylight. Try to place a mirror near a window with natural lighting so you can be sure your makeup looks great.
5. Testing foundation on your hand
When trying to find a new foundation or concealer, a lot of women will test the shade by applying it on the back of their hand. But in reality, this technique isn't effective because the colour of the skin on your hands isn't necessarily the same as the skin on your face. Test the foundation on your jawline – it'll give you a much more accurate shade.
Ad. Article continues below.
6. Using expired makeup
It's one of our worst beauty habits but using expired makeup can be bad for your skin. To see how much shelf life your makeup has left, click here.
7. Curling eyelashes after applying mascara
We're not sure where this tip started but many women try to curl their lashes after they have put on their mascara. It's the other way around! This will stop the device from pulling out your eyelashes and making the curler dirty.
Ad. Article continues below.
8. Using the wrong colour blush
Back in the 80s, bright blush was all the rage but now, subtle tones are far better. If you find that your blush looks unnatural, try switching from powder to cream, or vice versa. And make sure your applying to the apples of your cheeks, and it's a blush look, not a flushed look.
Ad. Article continues below.
9. Drawing eyeliner on just the lower lid
Only applying eyeliner to the lower lid can give you a severe look, instead of a soft, subtle one. Instead, apply just a little and blend in with your lashes on both the bottom and top. Black eyeliner is suited only to black lashes, so try to find a colour that suits your natural eyelash colour.
Tell us, which were you doing wrong?